بتسيلم – عبد الله مرتجى
בצלם – עבדאללה מורטג'ה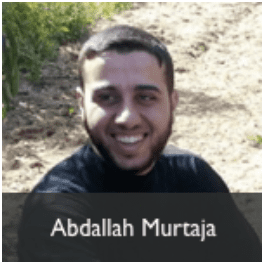 THE B'TSELEM FALSE NARRATIVE:
(taken from the B'Tselem webpage)
'Abdallah Fadel 'Abd a-Salam Murtaja

26 years old, resident of Gaza city, killed on 25 Jul 2014 in Gaza City, by a missile fired from an aircraft. Participated in hostilities member of the military wing of Hamas. Additional information: Killed in the a-Shuja'yah neighborhood where he was with other people.
THE FALSE NARRATIVE
"Killed … where he was with other people."
THE FACTUAL NARRATIVE:
IZZ AL-DIN AL-QASSAM BRIGADES WEBSITE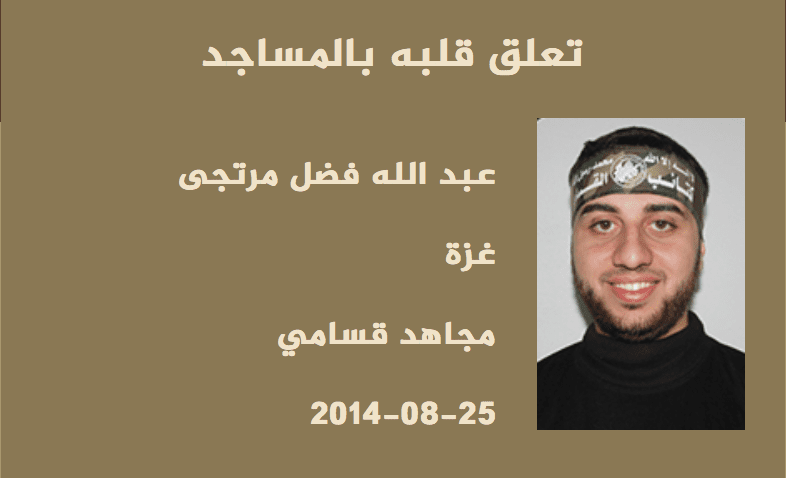 His martyrdom.
In addition to his media work in the press, he did not delay his jihadi duty with his brothers, where he went with a group of his mujahedeen brothers to to hit the Zionist settlements with 80-caliber mortars in the market area of Friday evening, 25 August 2014, at which time they were targeted by the planes of the Zionist enemy, they went to the Supreme, and they are defending the wealth of beloved Palestine, and with him martyrs Mohammed Habib, Farid Fadi Habib, Farid Fadi Habib, Nour Junda and Sheikh Amr.
SUMMARY
Abdallah Murtaja was not killed "where he was with other people", "in the a-Shuja'yah neighborhood". Murtaja was killed where he was firing 80-caliber mortars from the a-Shuja'yah market into Israel attempting to hit Israeli settlements and kill civilians, a war crime.
Read Abdallah Murtaja's complete narrative by clicking HERE.
"KILLED … WITH OTHER PEOPLE" is one of the common tropes found in the B'Tselem databases.
B'TSELEM'S USE OF THE TROPE
DEFINITION
A trope is a theme or plot element used many times, it creates recurrent images that influence an audience's senses helping a writer achieve a desired effect. The meaning of the text is not literal, it is figurative.
B'TSELEM'S USE OF THE TROPE, "KILLED … WITH OTHER PEOPLE"
"Killed … where he was with other people" or some version of it, is a common trope used by the B'Tselem database. It has a few versions, such as KILLED WHILE …. standing …. he was together …. out on the street … WITH OTHER PEOPLE. In most cases it is literally not true. The martyred Palestinian terror operative may or may not have been with other people when killed but he wasn't simply killed when he was innocently with other people, he was engaged in an act of terrorism or combat when killed, he was killed while engaged in hostilities. Most likely, he was with other terror operatives, which is obfuscated by the trope.
The B'Tselem trope creates an image of a peaceful setting, no hostilities, no combat, just simply a social gathering, the terror operative was "with other people". But more significantly, there is no reference to the targeting of the terror operative or why he was specifically targeted. The narrative merely contains a figurative expression to account for the death of the Palestinian combatant. The trope does what it is suppose to do, achieve a desired effect and influence the reader's senses. It adds the element of victimization to the narrative, Murtaja was merely with other people and out of nowhere, for no reason, he is struck by an Israeli missile and killed. Murtaja is portrayed as a victim
VICTIMIZATION
The B'Tselem databases create the illusion that Palestinian combatants killed by the Israeli security apparatus are victims, victims of an "occupier". The Abdallah Murtaja narrative is an example of this misinformation.
Murtaja, B'Tselem alleges, was killed where he was with other people, no explanation of why he was killed. By using this trope that conjures up a peaceful social setting, B'Tselem conceals why Murtaja died, what he was doing when he died, and it creates the illusion that this terror operative combatant was a victim in this incident.
The B'Tselem narrative above is patently false. Murtaja WAS NOT killed while he was with other people in a neighborhood, socializing. He was killed in a neighborhood market where he was firing mortar rounds into Israel targeting civilains. He was with other izz al-Din al-Qassam Brigades terror operative combatants, committing a war crime.
The trope, killed where he was with other people, conceals how Murtaja died, where he actually was when killed and what he was doing when he was targeted. The false narrative, in effect, has defined Murtaja as a victim.
Abdallah Murtaja, the terror operative combatant, re-imagined by B'Tselem as the victim.
While the B'Tselem databases have re-imagined Palestinian terror operative combatants as victims, the U.S. Department of Justice has identified who the truthful victims were, they closed down a Hamas fundraising scheme and will redirect the Hamas assets to the factual victims, the victims of their terrorism. The event documented below occurred in August 2020:
U.S. DEPARTMENT OF JUSTICE SEIZURE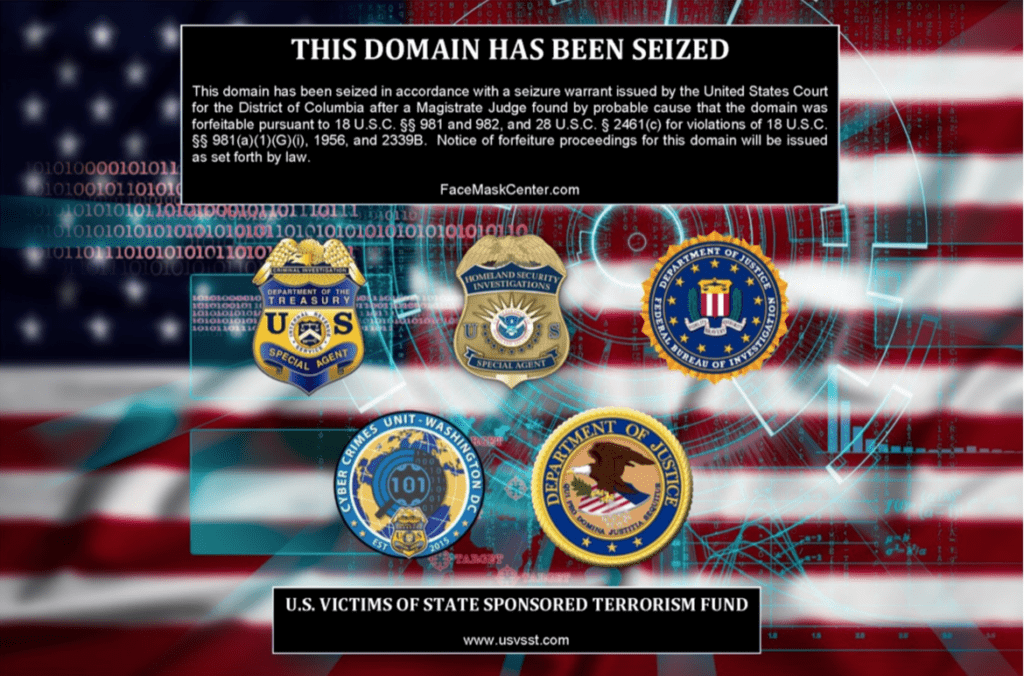 The original Humanize Palestine website memorialized Hamas and al-Qassam Brigades terror operatives, and B'Tselem represented them as victims, 'Abdallah Fadel 'Abd a-Salam Murtaja is one example.
Now the real victims have been identified. The U.S. Department of Justice has seized al-Qassam Brigades assets, funds and websites, used to finance their terror campaigns. The monies will be directed to the United States Victims of State Sponsored Terrorism Fund.
To read about the United States' largest-ever seizure of cryptocurrency in the terrorism context, click HERE.
CLICK 'B'TSELEM' TO RETURN TO "B'TSELEM – THE FALSE NARRATIVES"
CLICK 'HOME' TO RETURN TO THE GALLERY