*************************

HASAN KHALED MANASRA, ONE OF 15 UNAFFILIATED TERROR OPERATIVES/RIOTERS, INCITED BY RADICAL ISLAMIST AND TERRORIST ELEMENTS, ON THE ORIGINAL HUMANIZE PALESTINE WEBSITE
The original Humanize Palestine websites were created as a memorial for martyred Palestinian terror operatives.
To view photographs of the 15 unaffiliated terror operatives/rioters found on the Humanize Palestine websites' photo gallery, click HERE.
لعرض صور لـ 15 من الناشطين الإرهابيين/المشاغبين غير المنتسبين إلى مواقع فلسطين، انقر هنا
*************************
THE ORIGINAL HUMANIZE PALESTINE NARRATIVE:
Memorializing Palestinian Terrorists
IN MEMORY: HASAN KHALED MANASRA
Click HERE to view original Humanize Palestine Website (Use Back Arrow to Return)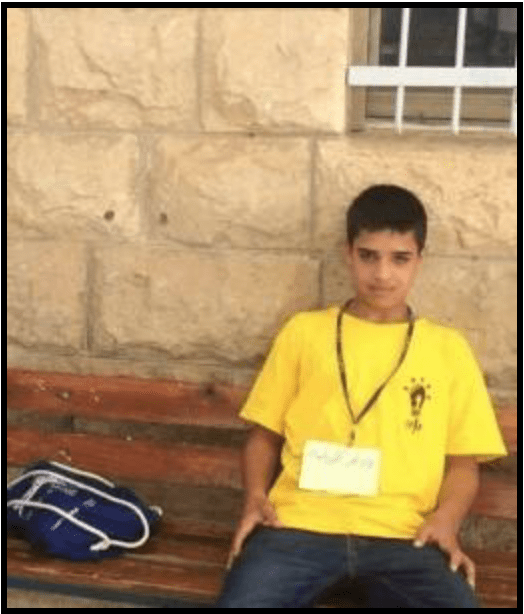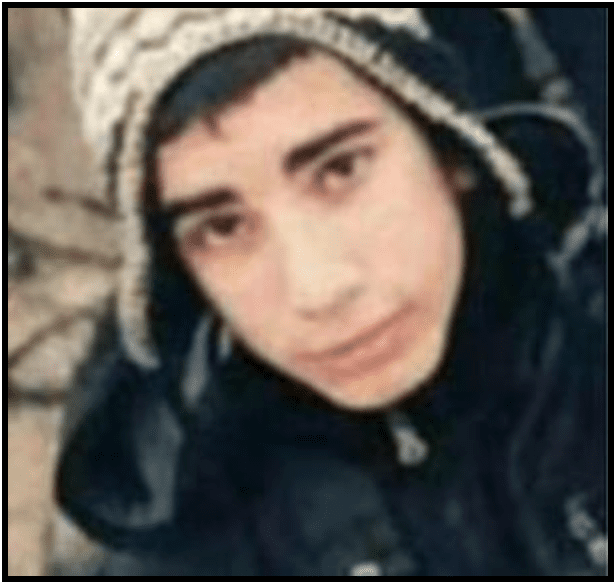 Hasan Khaled Manasra, 15 years old, was shot and killed on October 13, 2015 after allegedly stabbing two Israelis and wounding them in the East Jerusalem settlement of Pisgat Ze'ev. He was from Shu'fat camp in Jerusalem.
His cousin Ahmed Manasra, 13 years old, also from Shu'fat, was also shot and was left to bleed on the ground while Israeli settlers mocked and ridiculed him until he was taken to the hospital.
Sources: IMEMC, Electronic Intifada, PCHR

THE MEMORIALIZATION OF TWO PALESTINIAN TERRORISTS
(By the original Humanize Palestine Website)
2 THOUGHTS ON "IN MEMORY: HASAN KHALED MANASRA"
SKYWALKERSTORYTELLER October 19, 2015 at 10:28 pm REPLYOm mani padme hum. May he rest in peace.

*************************
THE FACTUALLY CORRECT NARRATIVE:
Identifying Palestinian Terrorists
UNAFFILIATED TERRORISTS: HASAN KHALED MANASRA AND AHMED MANASRA
THE INCIDENT
PALESTINIAN MEDIA
THE PALESTINIAN CENTER FOR HUMAN RIGHTS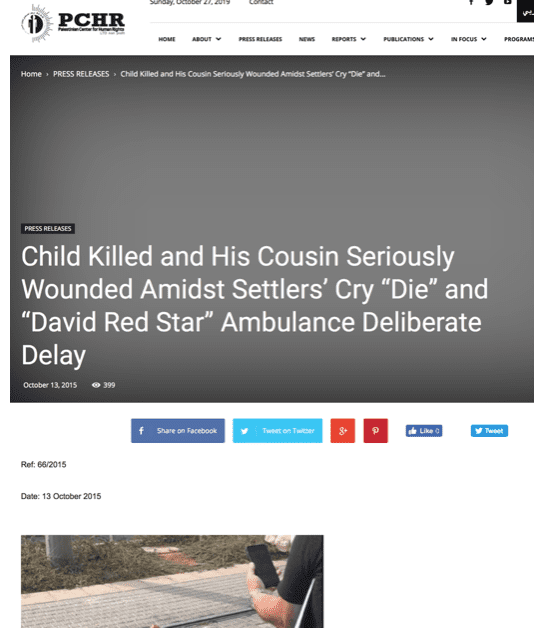 Click HERE to view website
The Palestinian Center for Human Rights
(PCHR) condemns in the strongest terms the crime committed by Israeli forces on Monday, 12 October 2015, in occupied East Jerusalem, which resulted in killing Hassan Khaled Mahayna (Manasra) (15), from Beit Hanina village, north of the city. Moreover, PCHR condemns the deliberate delay made by the David Red Star ambulance crew to offer first aid to his cousin, who was deliberately run over by Israeli forces. PCHR warns against the increasing number of killings among Palestinian civilians, including children and girls, in the occupied city on the grounds of suspicion of carrying out stabbings against Israeli forces and settlers. This crime was committed few hours after the killing of Mostafa al-Khateeb (18), from Sour Baher village, south of occupied Jerusalem.
Furthermore, PCHR denounces this crime that is added to the series of Israeli crimes committed in East Jerusalem in particular, and the occupied Palestinian territory (oPt) in general. Therefore, PCHR calls upon the international community to take immediate action and fulfill its legal and moral obligations to protect the Palestinian civilians in the oPt. PCHR believes that the silence of the international community towards these crimes encourages the Israeli government to continue its policy that violates the international humanitarian law.
According to investigations conducted by PCHR, on Monday afternoon, 12 October 2015, Israeli forces opened fire at Hassan Khaled Mahayna (Manasra) (15) and deliberately run over his cousin Ahmed Saleh Mahayan (Manasra) (13), both are from Beit Hanina village, north of occupied East Jerusalem. They were attacked while going to a mall near their family houses in "Pisgat Ze'ev" settlement. As a result, the first child was killed by several bullet wounds, while the other sustained serious wounds. The Israeli police claimed that two settlers were seriously wounded as the two Palestinian boys had stabbed them.
WESTERN MEDIA
THE NEW YORK TIMES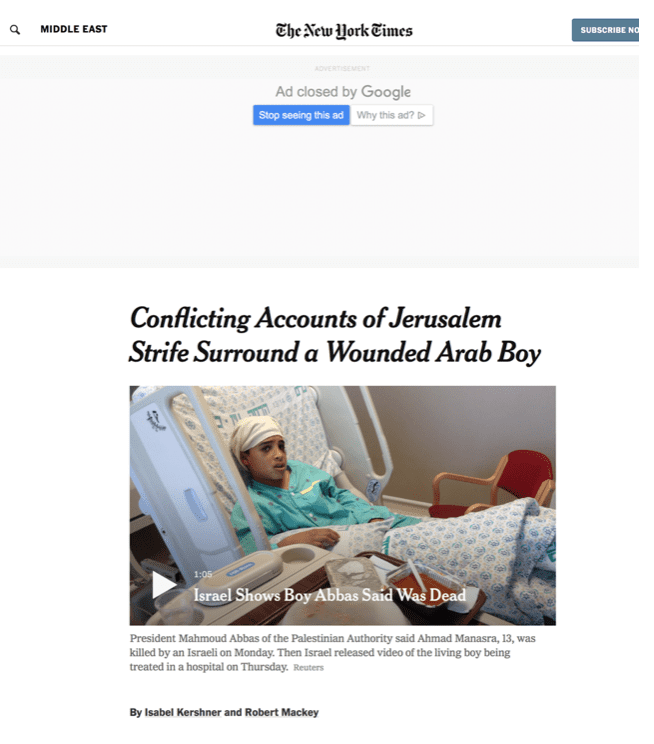 Click HERE to view website
Conflicting Accounts of Jerusalem Strife Surround a Wounded Arab Boy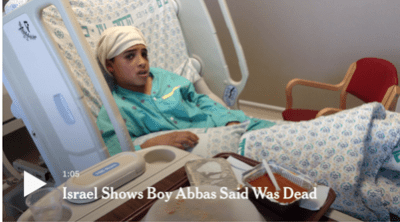 By Isabel Kershner and Robert Mackey Oct. 15, 2015
JERUSALEM — The Palestinian president said on television that the 13-year- old Arab boy bleeding profusely from the head had been executed on a Jerusalem street. An Israeli hospital showed a photo of the boy recovering, spoon-fed by a nurse.
Conflicting versions of reality have always been part of the seemingly intractable Israeli-Palestinian conflict — especially in the combustible atmosphere of recent days, as a wave of stabbings of Israelis by Palestinians has traumatized Israel.
In many cases, the suspects in the attacks have been shot to death. In this instance, however, the boy, Ahmad Manasra, was not killed, as had been claimed by President Mahmoud Abbas of the Palestinian Authority while commenting on a viral video that generated deep anger in the Arab world.
Israeli officials jumped on the apparent misstatement, describing it as a lie that reflected what they called the broader dishonesty and cynicism of the Palestinian leadership.
Israel has long charged the Palestinian Authority and its official news media with engaging in incitement to violence. Palestinian officials point to Israel's occupation of the West Bank and settlement construction as the triggers of violence, and accused Israel of seizing on the Manasra episode to deflect attention from Israel's policies, which they called the root cause of the problem. But in the social-media-fueled dynamic of this latest surge in violence, mutual mistrust and recrimination seem to have reached new heights.
Palestinians have accused Israel of planting knives where stabbing suspects have been killed. Official Palestinian news reports describe them as martyrs, either without mentioning their role in stabbing attacks or reporting the attacks as Israeli allegations. And if there is no video of a stabbing, many Palestinians insist that it did not happen.
On Thursday, Prime Minister Benjamin Netanyahu sought to use what is known about Ahmad Manasra to expose what he described as the false and incendiary Palestinian narrative.
"Yesterday, President Mahmoud Abbas accused Israel of putting to death, executing an innocent Palestinian boy," Mr. Netanyahu said at a rare news conference he convened for the international media in Israel. "First of all, he's not dead — he's alive. Second," he said, "he's not innocent — he tried to kill, murder, knife to death an innocent Israeli youngster, 13 years old, riding a bicycle. This Palestinian terrorist is now being treated in Hadassah Hospital in Israel."
Mr. Netanyahu also rejected accusations that the Israeli police have reacted with excessive force, saying they had acted in legitimate self-defense, just as any police force would.
An aide to Mr. Netanyahu showed images of posters bearing the logo of Mr. Abbas's Fatah faction honoring two of the stabbers, and what he said was a Fatah Twitter feed showing a crude drawing of a bearded Jew with a knife in his back. He also showed images of an official from the Islamic group Hamas, Fatah's rival, brandishing a knife and encouraging more stabbings.
Prof. Yoram Weiss, director of the hospital, told reporters that Ahmad Manasra, who was admitted with a head injury, was now "conscious, eating and watching TV."
Mr. Netanyahu described the Manasra episode as "the new big lie."
The first big lie, he said, involved "outrageous" Palestinian claims that Israel intended changing the status quo at the Jerusalem holy site revered by Jews as the Temple Mount and by Muslims as the Noble Sanctuary, home of Al Aqsa Mosque and the Dome of the Rock. The dispute over the sacred compound has energized Palestinian anger and been at the core of the latest violence.
Seven Israelis have been killed this month in about two dozen attacks by Palestinians mostly armed with knives, but also with guns and a meat cleaver. About a dozen of the suspects have been fatally shot at the scene by the police or Israeli civilians. Close to 20 additional Palestinians have been killed by the Israeli military in the same period, mostly during clashes in the West Bank and along the Gaza border.
Saeb Erekat, the secretary general of the Palestine Liberation Organization and a close aide to Mr. Abbas, said that "Mr. Netanyahu's attack on President Abbas is a failed attempt to distract from the fact that Palestinian civilians, including children, are being systematically targeted for extrajudicial executions by Israel."
"The picture of Ahmad Manasra, the Palestinian child who was left to bleed on the street, clearly shows Israel's disregard to human life," he added in a statement.
With visual proof that the boy was convalescing in a hospital, however, the Palestinian leadership began backpedaling on Thursday from the claim that he had been executed.
Mr. Erekat stated that he had been run over by an Israeli military jeep. "While he didn't constitute a threat following the incident," Mr. Erekat added, in an oblique reference to the stabbing attack, "he was later beaten and abused by the Israeli settler bystanders under the protection of the Israeli armed forces." There was no evidence of beating in the video.
Earlier on Thursday, the Palestinian Authority distributed what seemed to be a slightly sanitized English translation of what Mr. Abbas had said about the boy in Arabic on TV.
Where, in the Arabic original, Mr. Abbas had accused Israel of "executing our children in cold blood, as they did with this child, Ahmad Manasra," the English version had Israel "shooting" Ahmad in cold blood instead.
A Palestinian official, who asked not to be identified because he was discussing internal matters, struggled to explain the discrepancy.
He said that Mr. Abbas had been aware that the boy was alive when he made the speech, and that the context and meaning of his Arabic comments had been misread. Mr. Abbas had meant that the Israelis "attempted" to execute Ahmad, the official said.
Mr. Abbas had been speaking about a graphic video that has been viewed nearly three million times on the Facebook page of a Palestinian journalist. The clip was said to have been recorded and shared online by an Israeli bystander, who jeered and heckled the boy after he had been hit by the Jeep.
A statement from Hadassah University Hospital distributed by Israeli government officials on Tuesday had already made it clear that the boy was alive. It stated that "in stark contrast to circulating rumors," Ahmad Manasra was in stable condition and fully conscious.
Nonetheless, in his televised address broadcast Wednesday night, Mr. Abbas asserted that the boy had been killed.
"We will not submit to the logic of overwhelming force," Mr. Abbas said in his address, "the policies of occupation and aggression practiced by the Israeli government, and a herd of its settlers, who practice terrorism against our people and our holy sites, our homes and our trees, executing our children in cold blood, as they did with this child, Ahmad Manasra, and other children in Jerusalem and other parts of Palestine."
To punctuate his point, Mr. Abbas held up a still image from the video of Ahmad Manasra.
Many viewers of the clip have expressed sympathy for the wounded teenager and anger at the Israeli who recorded the video. The unseen Israeli, who was eventually pushed away from the boy by officers, stood over him, cursing and shouting, "Die, son of a whore!"
As the images spread on social media, however, so did misinformation — with many captions asserting, incorrectly, that the boy had been shot and killed, either by an Israeli soldier or a settler.
The episode took place in Pisgat Zeev, which Israelis describe as a Jewish neighborhood in the predominantly Arab East Jerusalem, but which Palestinians call a settlement, as it was built on land seized by Israel's military from Jordan in the 1967 war. Israel later annexed the eastern half of the city, in a move that has never been internationally recognized.
In a video report accusing Israel of faking evidence of other knife attacks, a reporter for the Palestinian news agency Maan described the clip as evidence of "murder" and claimed in her narration that the video showed the boy lying on the ground when "an Israeli occupation soldier shoots him in the head," which it does not.
Another copy of the video, subtitled in English and Spanish and viewed thousands of times on YouTube, came with an introduction that said the boy "was shot and injured by a settler."
On Wednesday, after Ahmad's father told Channel 2 News in Israel that he did not believe that his son had stabbed anyone — but had simply gone to buy something at a store with his cousin, Hassan — the Israeli police released surveillance camera video that appeared to show the two Arab teenagers carrying knives as they chased a second Jewish man who was stabbed in the neighborhood on Monday.
The new video also showed the Israeli boy who was stabbed falling from his bike after the attack, and Ahmad's older cousin being gunned down a short time later as he appeared to charge at officers with a knife. Video of Hassan's body, lying near light-rail tracks in the pavement like his wounded cousin, also circulated on Facebook, which perhaps caused some confusion.
Later Thursday, the P.L.O. delegation to the United States offered another explanation for the discrepancy in Mr. Abbas's claim. "What exactly happened was confusing the name of Ahmad Saleh Manasra (13) who was wounded and left bleeding on the road side with Israelis calling for his death, and his cousin Hasan Khaled Manasra (15) who was actually killed by Israeli police on that day," it said.
The statement accused Israeli officials and Israeli and American media outlets of "exploiting this inadvertent mistake to level charges and accusations against President Abbas" that it said were "malicious in nature."
ISRAELI MEDIA
THE TIMES OF ISRAEL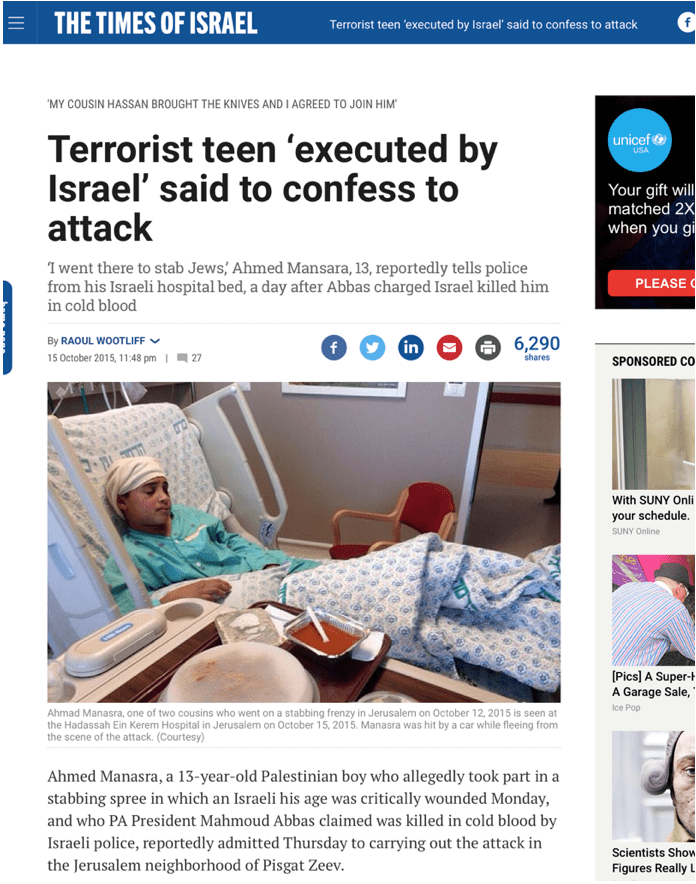 Click HERE to view website
Terrorist teen 'executed by Israel' said to confess to attack
'I went there to stab Jews,' Ahmed Mansara, 13, reportedly tells police from his Israeli hospital bed, a day after Abbas charged Israel killed him in cold blood
By RAOUL WOOTLIFF15 October 2015, 11:48 pm
Ahmed Manasra, a 13-year-old Palestinian boy who allegedly took part in a stabbing spree in which an Israeli his age was critically wounded Monday, and who PA President Mahmoud Abbas claimed was killed in cold blood by Israeli police, reportedly admitted Thursday to carrying out the attack in the Jerusalem neighborhood of Pisgat Zeev.
"I went there to stab Jews," he told investigators at the Hadassah Hospital where doctors have been treating him for wounds he sustained during the incident, police said.
Manasra said he was motivated to carry out the attack by the Palestinian claim that Israel has been trying to change the status quo on the volatile Temple Mount in Jerusalem. Israel has repeatedly rejected such allegations.
Manasra is accused of seriously injuring a 13-year-old boy and a 25-year-old man.
He said his accomplice, his cousin Hassan Manasra, 15, persuaded him to carry out the attack, the police said. The elder Manasra was shot dead when he lunged at police with a knife, while Ahmed was injured when he was hit by a car while attempting to flee the scene.
"I came with my cousin Hassan," he reportedly said. "He brought the knives and I agreed to join him."
Palestinian officials and relatives have claimed the two cousins were not involved in an attack and were unjustly targeted.
"My son cannot stab, he doesn't know how to hold a knife," Ahmed Manasra's father said on Tuesday.
But on Wednesday, police released footage showing the two brandishing knives and chasing a man down the street.
The footage then showed an Israeli boy leaving a store on his bike, apparently before being stabbed by one of the two cousins. The video ends with one of the attackers charging at police before being shot several times.
Amateur video widely circulated on the day of the attack on Palestinian social media sites showed the wounded Ahmed lying on the ground after being struck, his legs splayed and a pool of blood near his head. Bystanders could be heard cursing the boy in Hebrew and yelling at him, "Die!" The images, which made no mention of the stabbing, have enraged many Palestinians.
On Wednesday night Mansara became the focus of international media when Palestinian Authority President Mahmoud Abbas accused Israel of "executing our boys in cold blood, as they did with the boy Ahmed Manasra and other children in Jerusalem and other places."
The Prime Minister's Office swiftly issued a statement after the speech, noting Mansara was alive and had initiated a terror attack, and accusing Abbas of spreading "lies and incitement."
"The boy he is referring to is alive and hospitalized in Hadassah after stabbing an Israeli child who was riding his bicycle," the statement said.
On Thursday, the Government Press Office released photos and video of Manasra awake and sitting in a bed at the hospital.
In a Thursday press conference, Prime Minister Benjamin Netanyahu used Abbas's claims of Manasra's killing to highlight what he termed "continuous Palestinian incitement."
"The current terror campaign in Israel is a result of continuous Palestinian incitement. First, on the Al-Aqsa Mosque and the outrageous claims that we are changing the status quo there or intend to destroy it, and now we have a new big lie," he said. "That new big lie is that Israel is executing Palestinians."
The younger Manasra "was treated by a multidisciplinary team of physicians, especially neurosurgeons" and received the best care available, Professor Yoram Weiss, the director of Jerusalem's Hadassah Medical Center, said at Netanyahu's press conference. "Nothing was spared to take of his injury. At this point, he's awake, he's conscious, he's eating, he's watching TV and he's stable."
Times of Israel staff and AP contributed to this report.
"I went there to stab Jews" Ahmed Manasra
THE YOUTUBE VIDEO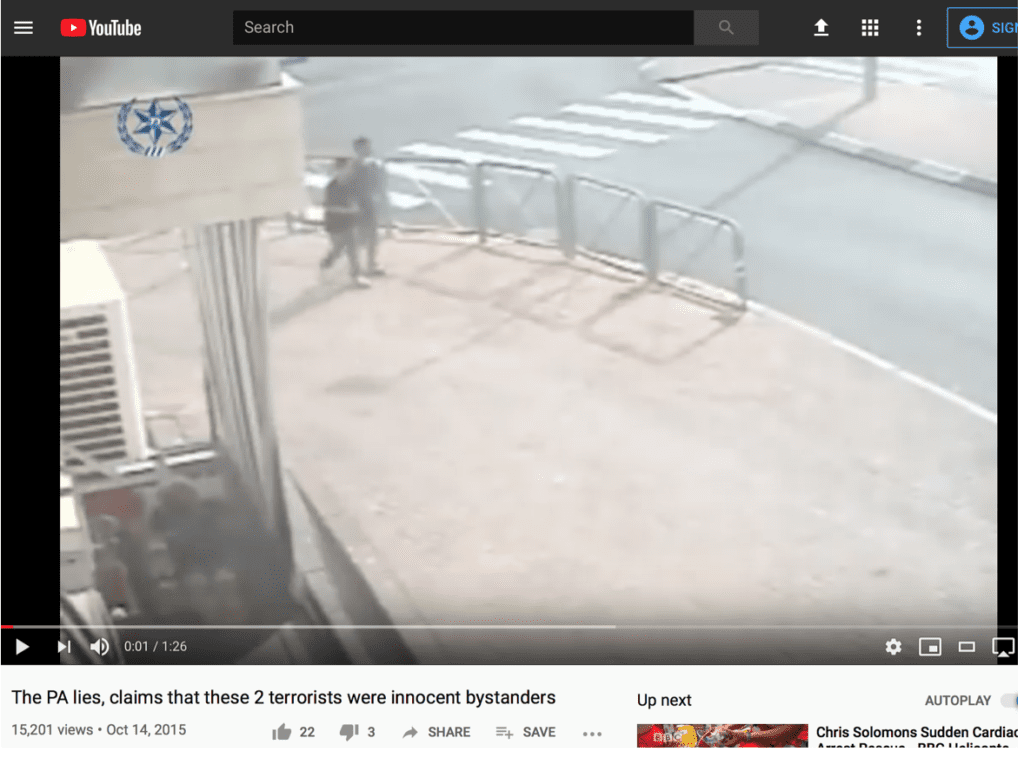 Click HERE to view video
SCREEN GRABS FROM VIDEO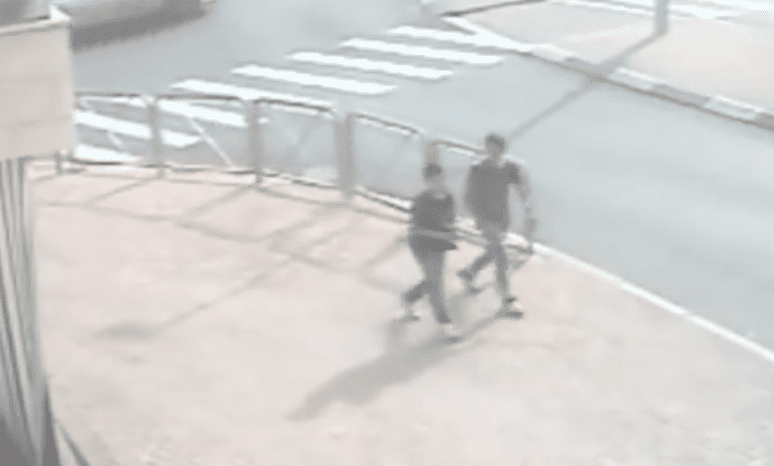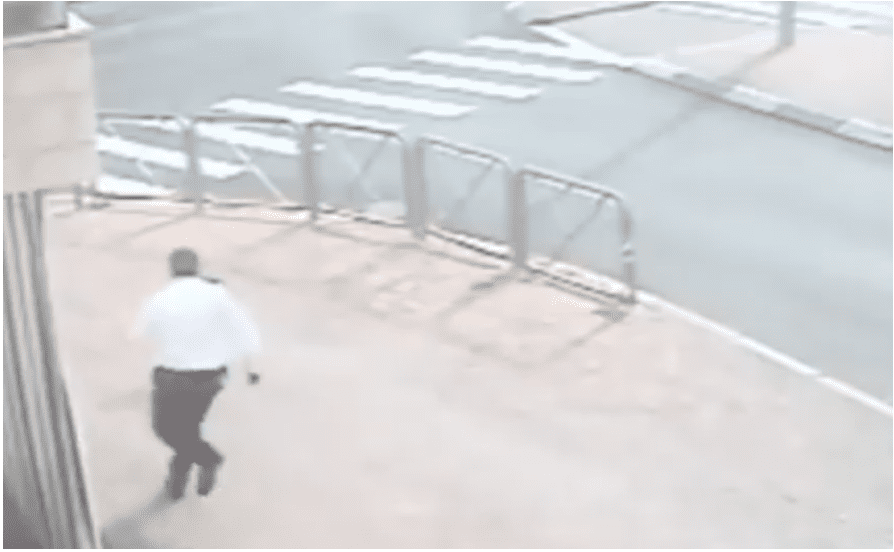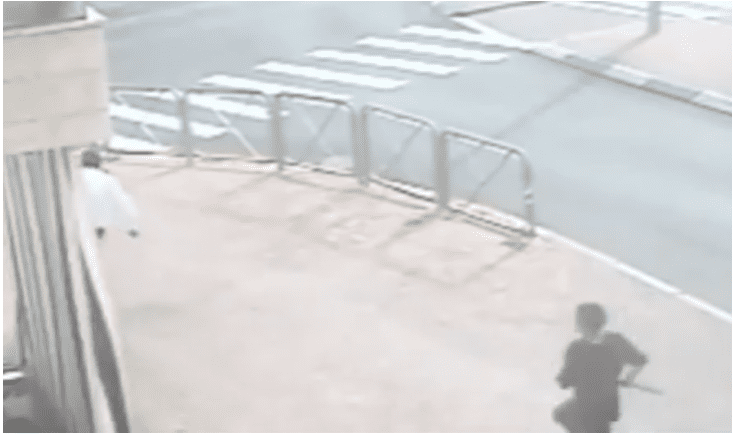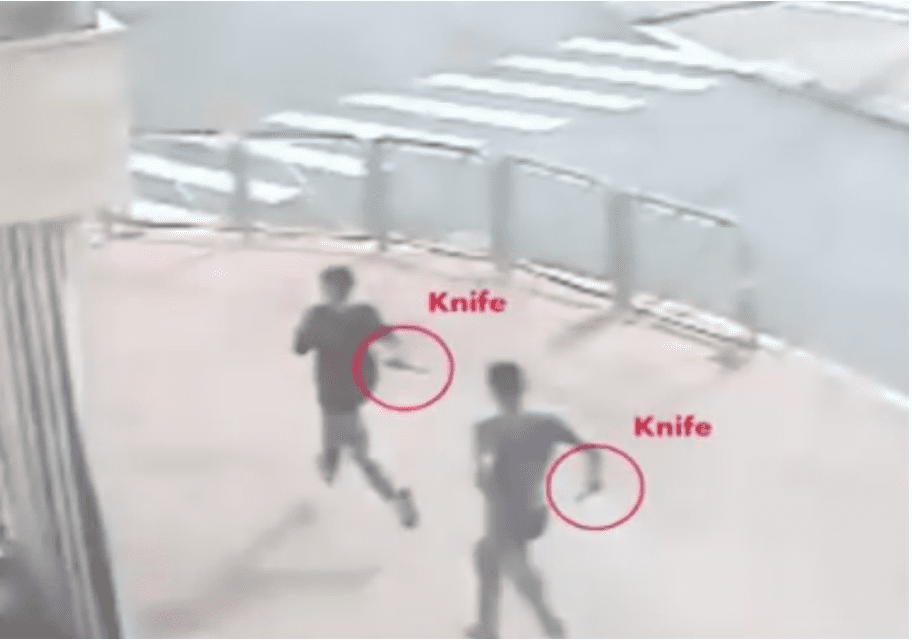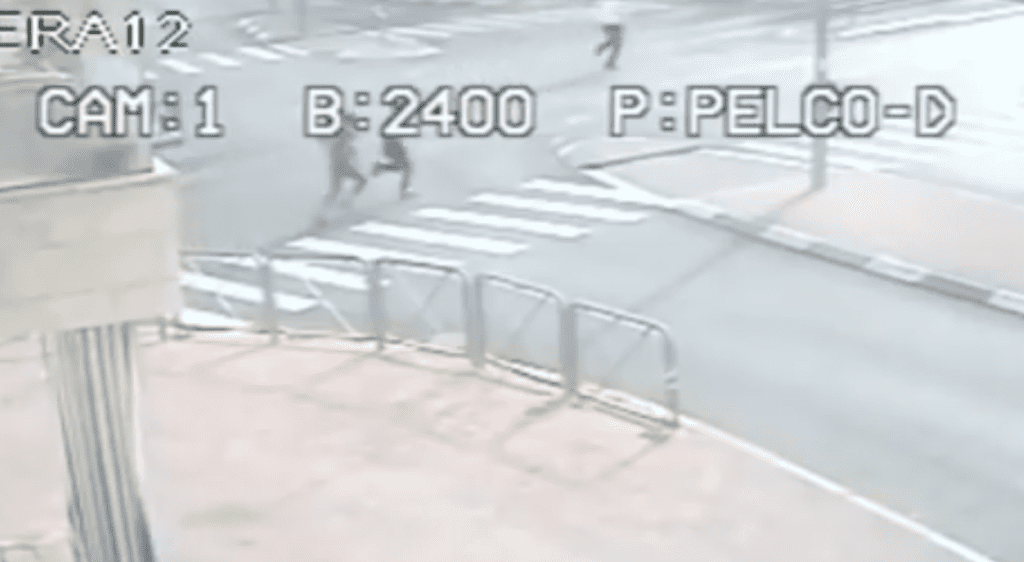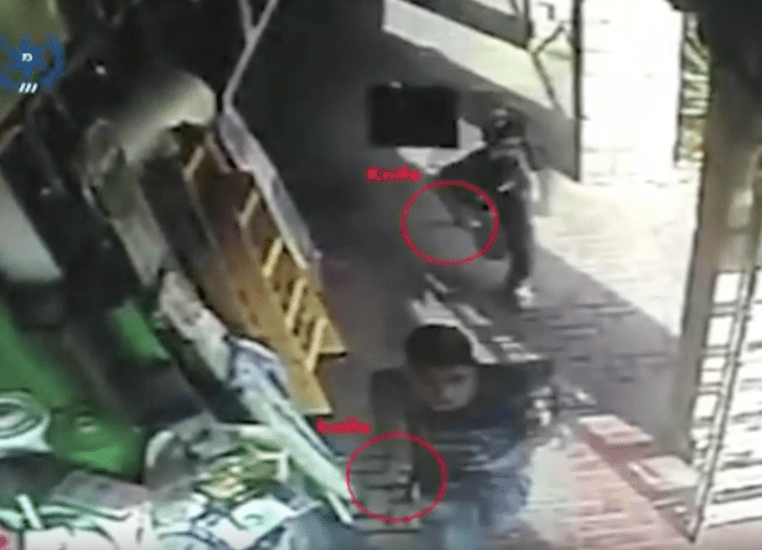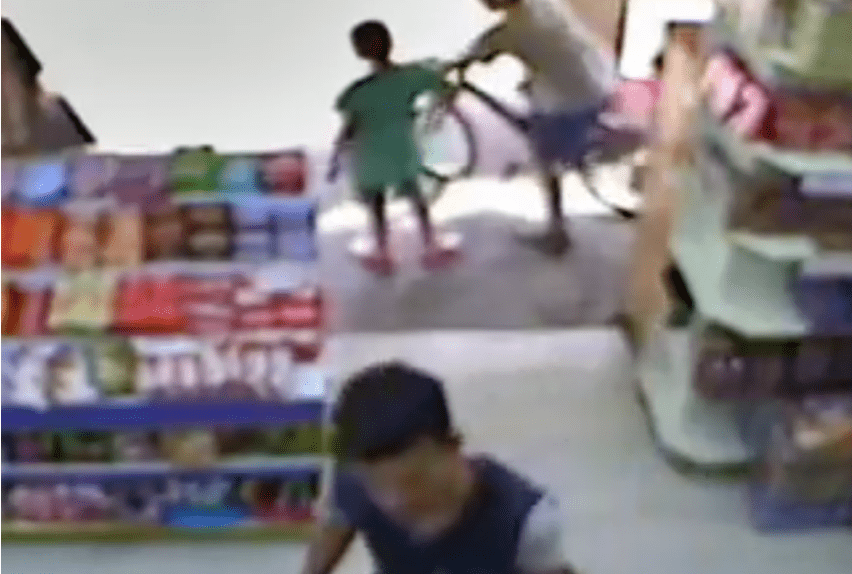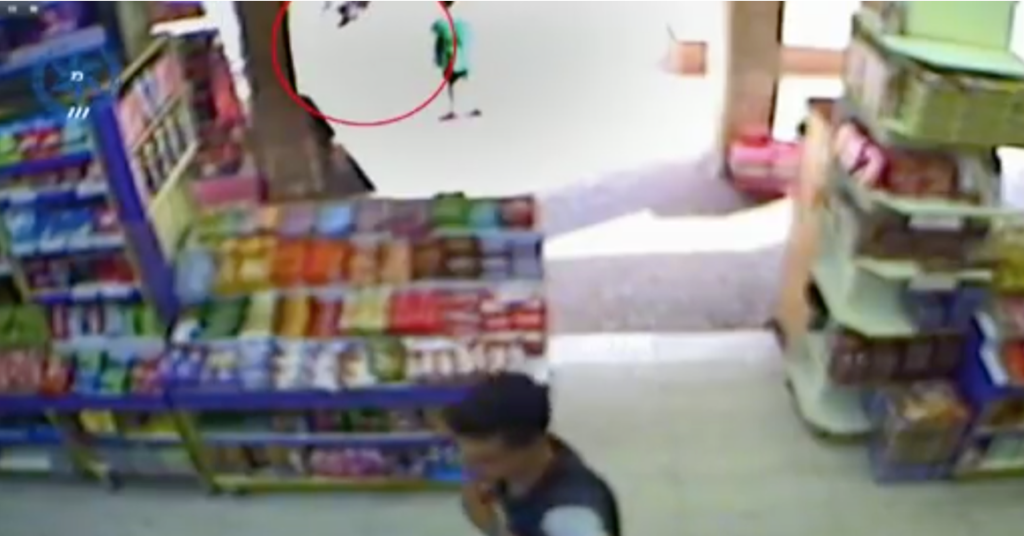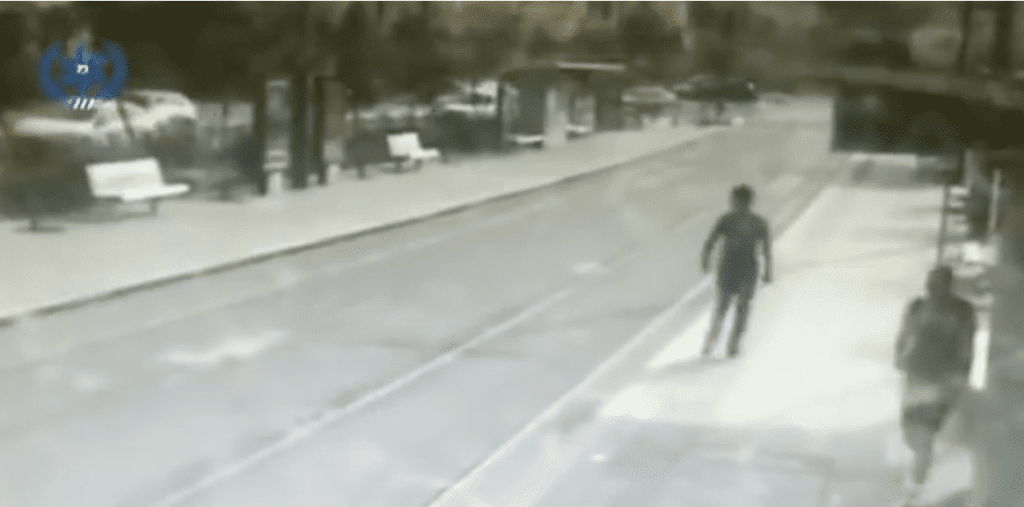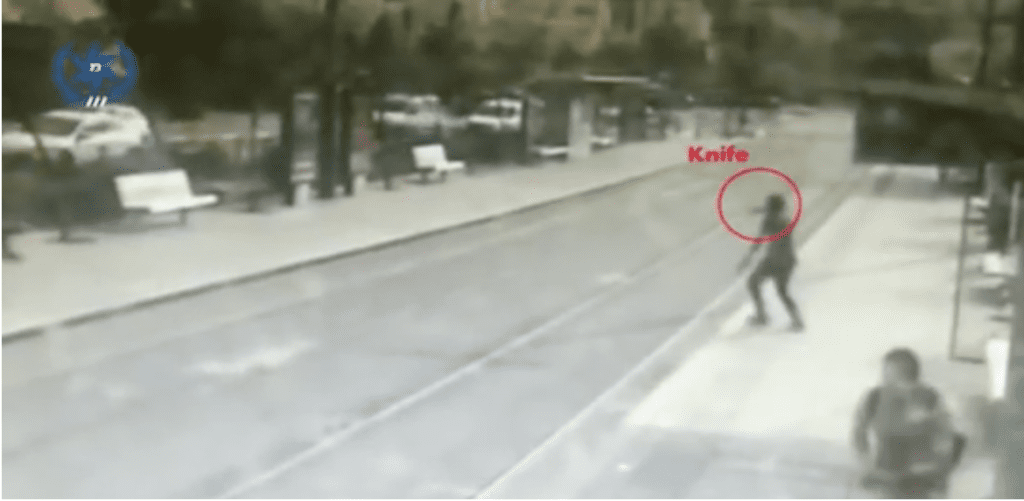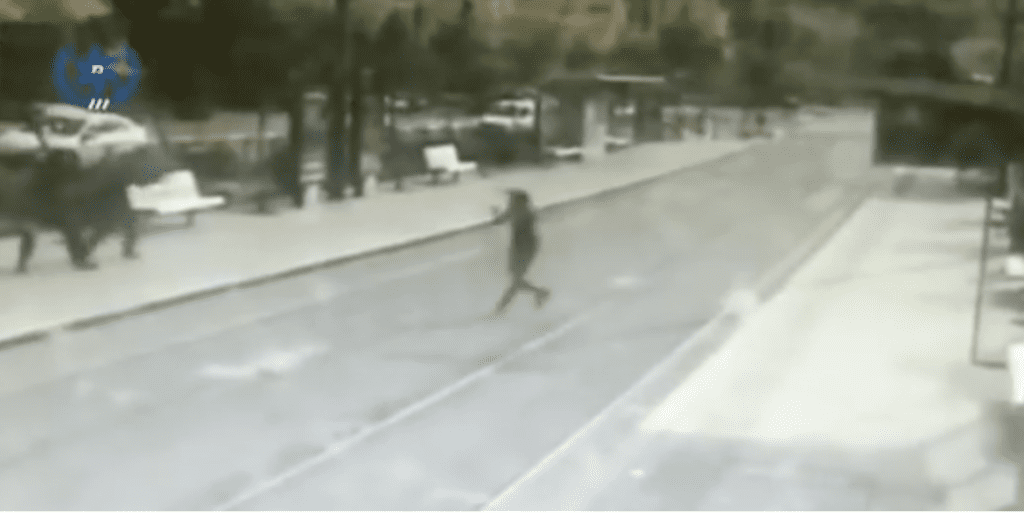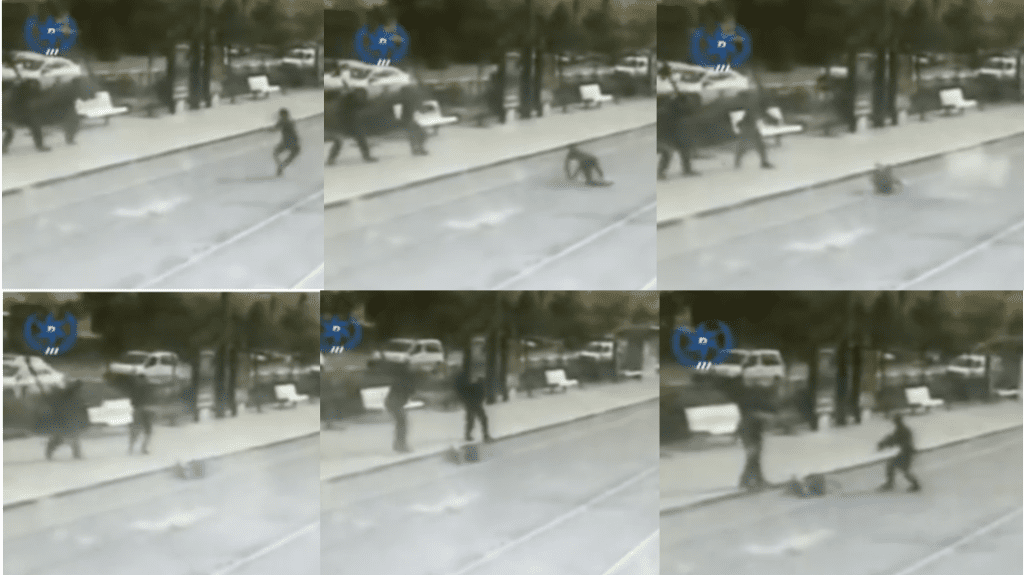 INCITEMENT
MEIR AMIT INTELLIGENCE AND TERRORISM INFORMATION CENTER
NEWS OF TERRORISM AND THE ISRAELI-PALESTINIAN CONFLICT (OCTOBER 14 – 20, 2015)
ONGOING INCITEMENT IN THE SOCIAL NETWORKS
This past week incitement and hate propaganda continued in the Palestinian social networks. Many notices, cartoons and videos were posted encouraging terrorist attacks. For example:
Left: Encouragement for stabbing attacks. The Arabic reads, "If you have seen those infidels, strike their throats…Allahu akbar (Facebook page of Gaza al-'Aan, October 14, 2015). Right: A notice reading "We will take your souls, oh sons of pigs" (Facebook page of Gaza al-'Aan, October 13, 2015).
The Facebook page of QudsN encourages stabbing attacks. Left: The Arabic reads, "Stab!" (Facebook page of QudsN, October 14, 2015). Right: a masked Palestinian hacks at a Jew with a meat cleaver (Facebook page of QudsN, October 18, 2015).
OVERVIEW [TERRORIST ATTACKS]
This past week the wave of terrorism and violence continued, focusing on Beersheba (shooting attack), Jerusalem, Hebron and the Etzion Bloc (stabbing and vehicular attacks). As during the past weeks, the attacks were carried out by lone, young terrorists, unaffiliated with the terrorist organizations, most of them without a criminal record. The number of Israelis killed in the current wave of terrorism has reached 11.
MAHMOUD ABBAS' SPEECH
News of Terrorism and the Israeli-Palestinian Conflict (October 14 – 20, 2015)
In view of the escalation in Palestinian terrorism, Mahmoud Abbas gave a speech broadcast live. It was belligerent and stressed the legitimacy of the "popular resistance," carried out, he claimed, by peaceful means. He protested the so-called [Israeli] "occupation," settler terrorism and the damage to Al-Aqsa mosque, and threatened to appeal to the International Criminal Court (ICC) (Voice of Palestine Radio, October 14, 2015):
Accusing Israel of seeking to change the status quo on the Temple Mount: At the current time, Mahmoud Abbas claimed, when Israel's aggression against the Palestinian people, its land and holy places is escalating, and racism and arrogance raise their ugly heads, the Palestinian clearly say that they will not agree to a change in the status quo of Al-Aqsa mosque. The Palestinians will not allow Israel to continue its plans to harm it or its sanctity and change pure Islamic nature.
Continuation of the "popular struggle:" The shaheeds, Mahmoud Abbas claimed, are the price the Palestinians have to pay for their freedom. He stressed that the popular struggle would continue alongside measures taken in the international arena. He appealed to the Palestinians and condemned the "escalating Israeli hostility" towards the Palestinians.
During the speech Mahmoud Abbas made no mention of the wave of terrorism and made no effort to calm the situation. He made the false claim that Israel "executed" Palestinian children such as Ahmed Manasra. Manasra was a 13 year-old boy wounded while carrying out a stabbing attack in Pisgat Zeev, a northern neighborhood of Jerusalem. Mahmoud Abbas waved a picture of the child lying in the street. Ahmed Manasra was one of two young boys who carried out the stabbing attack. He was wounded during the attempt to stop his during the terrorist attack. Israeli issued pictures proving that during Mahmoud Abbas' speech Ahmed Manasra was receiving medical treatment in an Israeli hospital (and has since been released).
… Israel "executed" Palestinian children such as Ahmed Manasra ….
PATENTLY FALSE NARRATIVE, ORIGINAL HUMANIZE PALESTINE WEBSITE
ORIGINAL HUMANIZE PALESTINE WEBSITE
"Hasan Khaled Manasra … was shot and killed on October 13, 2015 after allegedly stabbing two Israelis …."
"His cousin Ahmed Manasra, 13 years old … was also shot …."
THE FACTS
Hasan Khaled Manasra was not shot and killed after an alleged stabbing attack involving two Israelis. An incident that is "alleged" is an incident without proof that it actually took place. This stabbing incident has been documented on a video and by multiple media outlets, corroborated beyond any reasonable doubt and there is substantial proof that it occurred. There were Israeli injuries. Calling the incident an alleged attack is a patently false statement.
He was shot after two stabbing attacks. Left out of this narrative is the fact that he was actually shot as he ran towards police, knife raised high, to attack them.
Ahmed Manasra WAS NOT shot. He was run over by a motor vehicle as he tried to flee from the police.
ORIGINAL HUMANIZE PALESTINE WEBSITE
This is how Hasan Khaled Manasra and his cousin, Ahmed Manasra, are depicted on the website: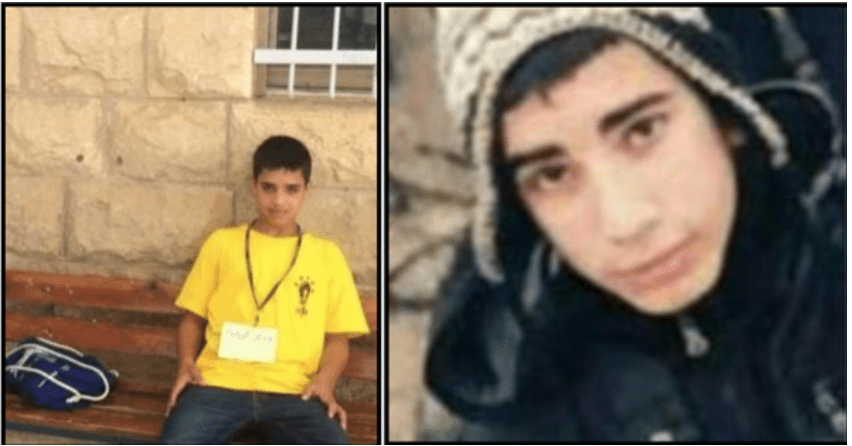 THE FACTS
These photos are the correct depiction of two Palestinian terrorists as they race thru the streets, knives in hand, seeking victims to kill: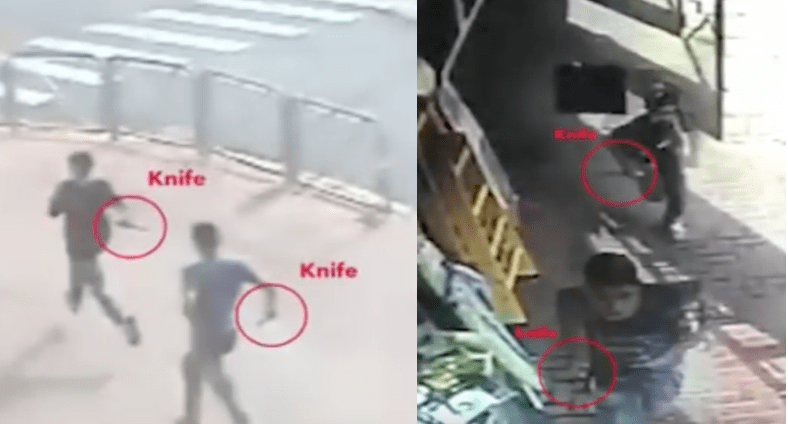 CLICK 'HOME' TO RETURN TO GALLERY: