THE ORIGINAL HUMANIZE PALESTINE NARRATIVE:
Memorializing Palestinian Terrorists
IN MEMORY: MOHAMMED AL-RANTISI AND SAJED HAMMED
Click HERE to view original Humanize Palestine Website (Use Back Arrow to Return)
Over 400 asylum seekers, including 100 children, were drowned in international waters on their way to Italy after the boat they were traveling on was rammed by smugglers on September 10, 2014. Among those who drowned were Mohammed Al-Rantisi and Sajed Hammad.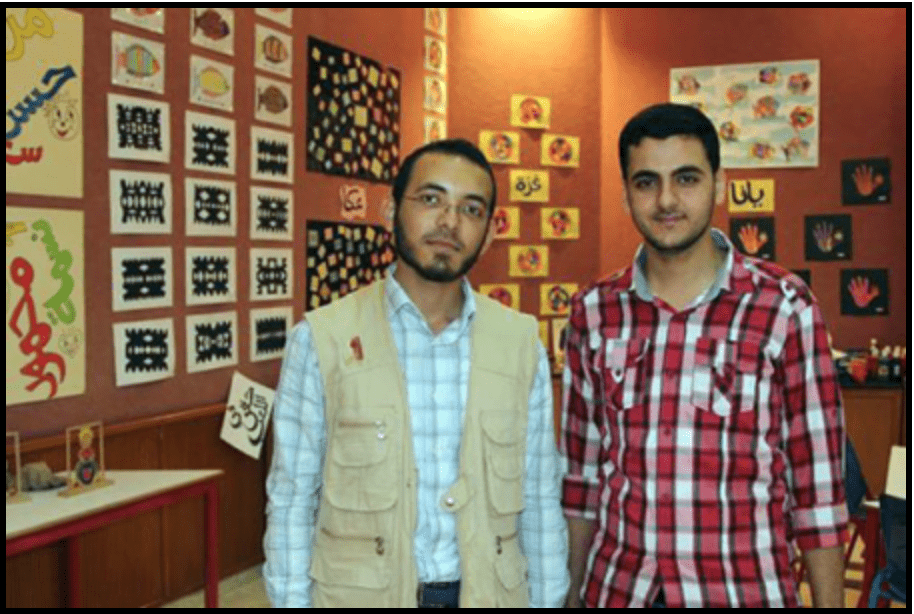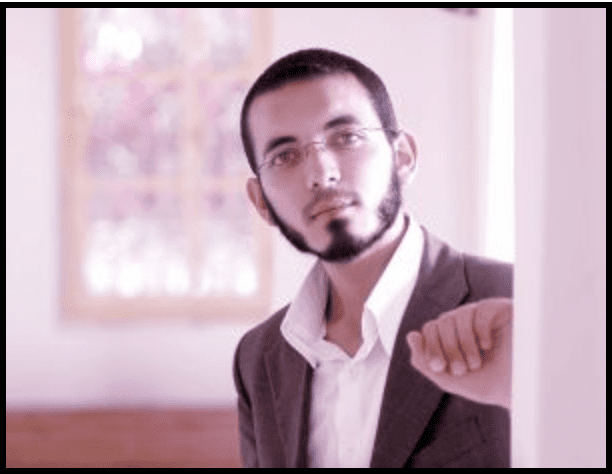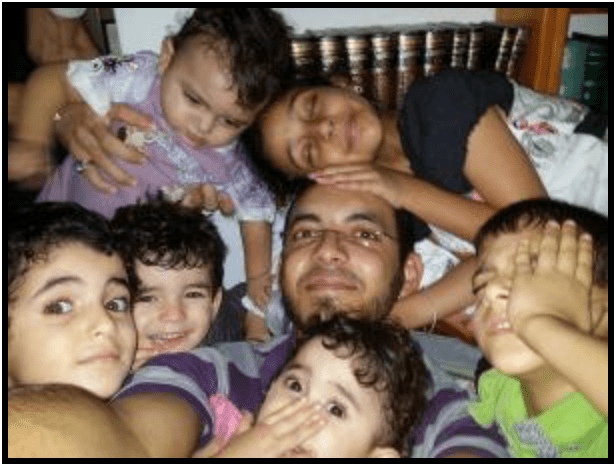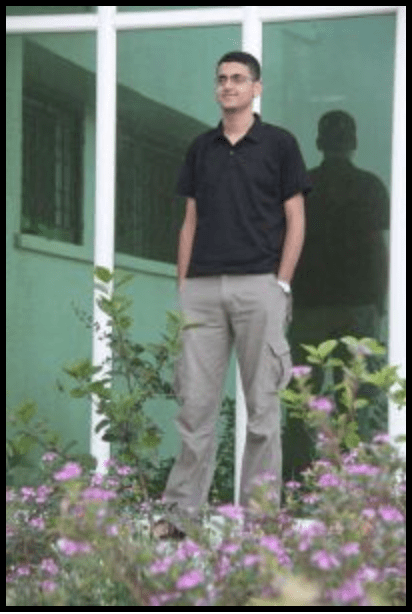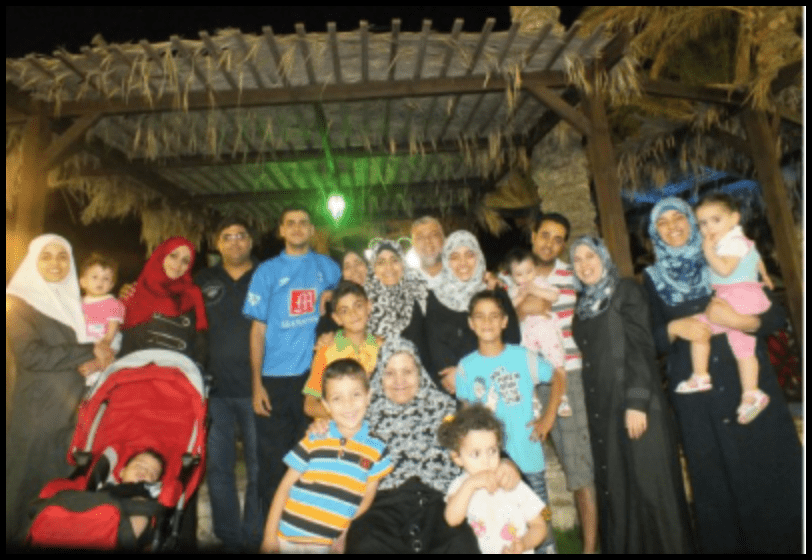 Mohammed Al-Rantisi, 23 years old, was a Management and Technology graduate heading to Europe in search of a brighter future. His favorite song was a message of farewell.
Mohammed wanted to complete a Masters and PhD in technology applications for business administration. He had applied to Germany, and was accepted by the Clausthal University in April this year, but Israeli authorities in Tel Aviv refused his visa application to leave.
Sajed Nafez Hammad, 24 years old, was a kind, creative and ambitious young man from Gaza. His friends loved him for his smile. He was well-mannered and generous – offering a helping hand to anyone in need. He graduated from a local university and established his own start-up with Mohammed, Sjaia Production. The Israeli Occupation Air Force completely destroyed their future and dreams when they destroyed their company's small office at Al-Basha Tower with five Israeli F-16 rockets on August 25, 2014.
With no employment prospects for them in Gaza, Mohammed and Sajed decided to leave to search for better opportunities.
When Mohammed told his family he was going to go through the tunnels and by boat, they begged him not to go, but he was determined to find a better future.
They could see no future for themselves in Gaza after this. We tried every argument we could think of, suggesting part-time work, arguing that he could not leave his family or his country, and pleading with him not to take those risks. But in his usual non-conformist way he refused to stay, reassuring us that the trip was safe and all the boats before them had arrived safely in Italy. So sadly, we watched him leave.
He went with his friend Sajed to the house of the 'broker' who lived in Khan Younis, and the group then went through the tunnels. A car was waiting to take them to Al Arish, where they stayed the night.
Next day they went to Alexandria, and all this time he kept in contact with us by phone, telling us about an Egyptian military checkpoint they passed through without problem, where their passports were stamped. Everything was going well, they were on schedule to get their boat on 7 September.
When they reached Alexandria they were told they would have to stay in an apartment for the night, but Mohammed refused to wait until the next day, and insisted on getting the boat called 6 September on the Saturday, which was a fatal decision. It was the death boat.
Our last call from Mohammed was at 9pm on 6 September. He called us and talked with our mum and dad and brother Yousef, and dad also talked with Sajed and asked him to take care of Mohammed and stay by his side.
The boat set off to sea, and that was the last contact we ever had with them.
On the boat, passengers said Mohammed "was so funny and inspiring to everyone on board, and they used to call him the photographer, Abu Khaled, because he took photos of everything and everyone on the boat."
Mohammed's family pleads:
We ask the international community to do something about the conditions that drive peoples' loved ones to go to such extremes to achieve things that people in Europe and the US and other places just take for granted – taking up a scholarship, travelling outside of your country.
We ask the international community to do something about the unscrupulous people who prey on these desperate migrants, and profit from their misery.
We ask the international community to shoulder their human responsibilities to help people in such circumstances – to search and rescue them, to search for their bodies at the very least. It pains us so much to think of our son and brother swimming desperately for days on end, holding his injured friend, while no country cared enough to even look, let alone save them. How must he have felt?
No family should have to suffer what we are going through. Please, make sure no other family does.
Read more about Mohammed and Sajed's story here.
Sources: Middle East Monitor

3 THOUGHTS ON "IN MEMORY: MOHAMMED AL-RANTISI AND SAJED HAMMAD"
SKYWALKERSTORYTELLER October 14, 2014 at 9:06 pm REPLYMay they rest in peace. Om mani padme humLike
JANE ROSSITER-SMITH October 17, 2014 at 9:44 am REPLYThe story of Mohammed and Sajed's is so incredibly sad. Two educated young men, friends and entrepreneurs whose hopes and dreams had been shattered by the evil Zionist onslaught on Gaza. They left their homeland to seek a better future and together died so tragically. In their memories we will continue the fight for freedom and justice for Palestine.Like
*************************
THE FACTUALLY CORRECT NARRATIVE:
MURDERED BY PALESTINIAN/EGYPTIAN SMUGGLERS: MOHAMMED AL-RANTISI AND SAJED HAMMED
CNN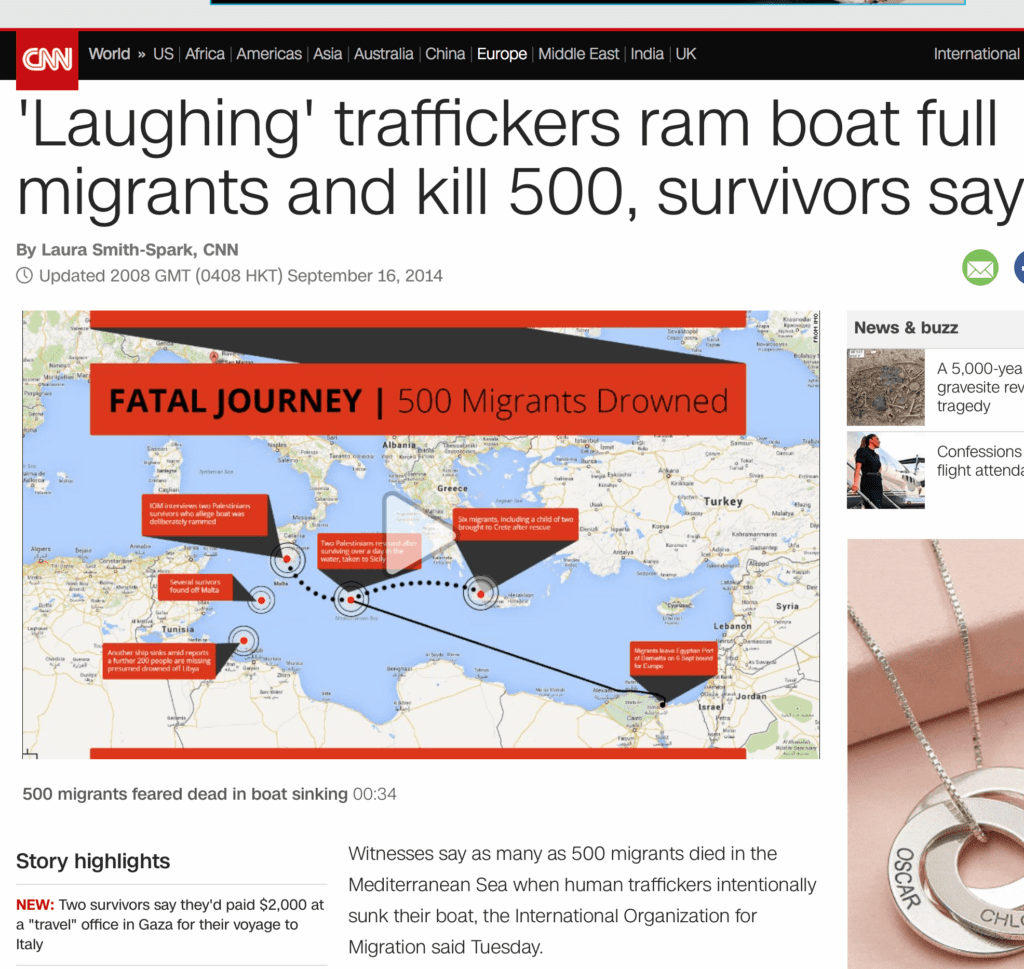 Click HERE to view website
'Laughing' traffickers ram boat full migrants and kill 500, survivors say
By Laura Smith-Spark, CNN
Updated 2008 GMT (0408 HKT) September 16, 2014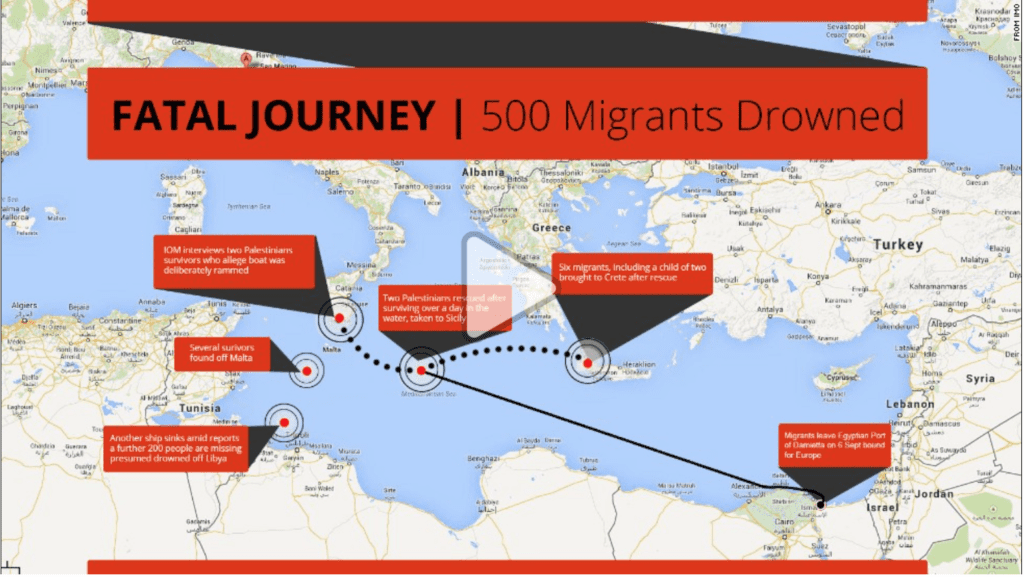 Witnesses say as many as 500 migrants died in the Mediterranean Sea when human traffickers intentionally sunk their boat, the International Organization for Migration said Tuesday.The survivors — both Palestinian men from Gaza who were rescued separately after days in the water clinging to flotation aids — said they had packed into a boat in Egypt's port of Damietta in Egypt and left on September 6. They estimated at least 400 men and women, in addition to as many as 100 children, were on board. Two survivors interviewed by the IOM and Italian police in Sicily said the traffickers became enraged after the migrants — who had already switched to small boats three times during their four days at sea — refused to move to a smaller vessel. The migrants said they'd rather go back to Egypt than continue on in an even smaller vessel that they believed was not seaworthy. The Palestinians' account was corroborated by several other survivors who were interviewed on the Greek island of Crete, the IOM said.They said the smugglers, who they said were Palestinians and Egyptians, had begun yelling and throwing sticks at the migrants after they refused to leave the boat before then ramming the vessel. Some migrants managed to jump into the smaller boat, while one passenger "killed himself in despair by hanging," a survivor said."After they hit our boat, they waited to make sure that it had sunk completely before leaving. They were laughing," he added.
IOM: Many children among dead
By Tuesday morning, authorities in Italy, Malta and Greece confirmed the rescue of 10 migrants from the lost vessel, the IOM said. Three bodies have also been found.Those on the boat included Syrians, Palestinians, Egyptians and Sudanese, the witnesses said. The two Palestinian survivors explained that they'd paid $2,000 — money they'd gotten after receiving grants to rebuild their homes — at what they called a "travel" office in Gaza for their voyage to Italy, according to the IOM. Four buses took them to the Egyptian port near Alexandria, where about 200 people got on the ship's first deck and the other 300 people on the bottom deck. Survivors surmised that those below deck were unable to escape the sinking boat and drowned almost immediately. Some people managed to stay afloat for three days, only to be done in by strong winds and waves that moved through the area.'"If survivors' reports are confirmed, this will be the worst shipwreck of migrants in years, not an accidental tragedy, but the apparent deliberate drowning of migrants by criminal gangs who extort money for their desperate journeys," said IOM spokesman Leonard Doyle. "Their actions are as callous as they are evil."Italian navy finds dozens of bodies in migrant boat
'Shocking and unacceptable'
According to the IOM, the latest reported sinking would take the death toll off Europe's shores this year to nearly 3,000. In 2013, the organization's Missing Migrants Project estimated the total for the year to be 700 deaths."The numbers dying off Europe's coasts are shocking and unacceptable," said IOM director general William Lacy Swing."These are women, children and men who only hope for a more dignified life. The risks they take reflect their desperation and we cannot keep abandoning them to their fate."Authorities are also investigating reports that 200 more people are missing off Libya and that another 15 drowned off the coast of Egypt, the IOM said.Each year, tens of thousands of people are rescued from the Mediterranean, according to the European Union border agency, Frontex. The United Nations has expressed dismay over the rising number of migrants dying at sea.
PATENTLY FALSE NARRATIVE, ORIGINAL HUMANIZE PALESTINE WEBSITE
ORIGINAL HUMANIZE PALESTINE WEBSITE
"The Israeli Occupation Air Force completely destroyed their future and dreams when they destroyed their company's small office at Al-Basha Tower with five Israeli F-16 rockets on August 25, 2014."
"Two educated young men … whose hopes and dreams had been shattered by the evil Zionist onslaught on Gaza."
THE FACTS
The hopes and dreams of "two educated young men" were shattered by Palestinian and Egyptian human traffickers, smugglers, when they rammed and sunk the vessel transporting Mohammed al-Rantisi and Sajed Nafez Hammad to Italy, not by the "evil Zionist onslaught on Gaza".
False, "the Israeli Air Force completely destroyed their future and dreams ". A war destroyed their small office which could have been rebuilt. Their future was destroyed by Palestinian smugglers.
"… human traffickers intentionally sunk their boat … the traffickers became enraged after the migrants … refused to move to a smaller vessel … the smugglers, who they said were Palestinians and Egyptians, had begun yelling and throwing sticks at the migrants after they refused to leave the boat before then ramming the vessel …."
CLICK 'HOME' TO RETURN TO GALLERY: