THE ORIGINAL HUMANIZE PALESTINE NARRATIVE:
Memorializing Palestinian Terrorists
IN MEMORY: SALMA ZEIDAN AL-MASRI
Click HERE to view original Humanize Palestine Website (Use Back Arrow to Return)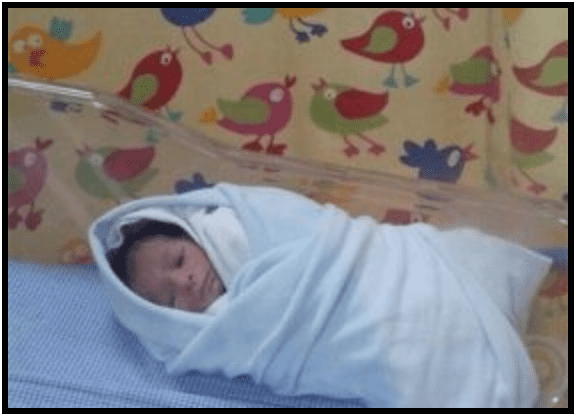 Salma Zeidan al-Masri, 2 months old, died on January 10, 2015 from the harsh winter storm Huda. She was staying with her family in a temporary shelter, the Rashad al-Shawwa shelter, in Beit Hanoun, in the northern part of the Gaza Strip, since their home was destroyed in the Israeli assault this past summer. One of the baby's relatives said that she turned blue from the cold, since there was no heating available in the temporary shelter.
Sources: IMEMC, Ma'an News
ONE THOUGHT ON "IN MEMORY: SALMA ZEIDAN AL-MASRI"
SKYWALKERSTORYTELLER January 12, 2015 at 3:46 pm REPLYMay she rest in peace. Om mani padme hum
*************************
THE FACTUALLY CORRECT NARRATIVE:
DEATH DUE TO HYPOTHERMIA: SALMA ZEIDAN AL-MASRI
AL BAWABA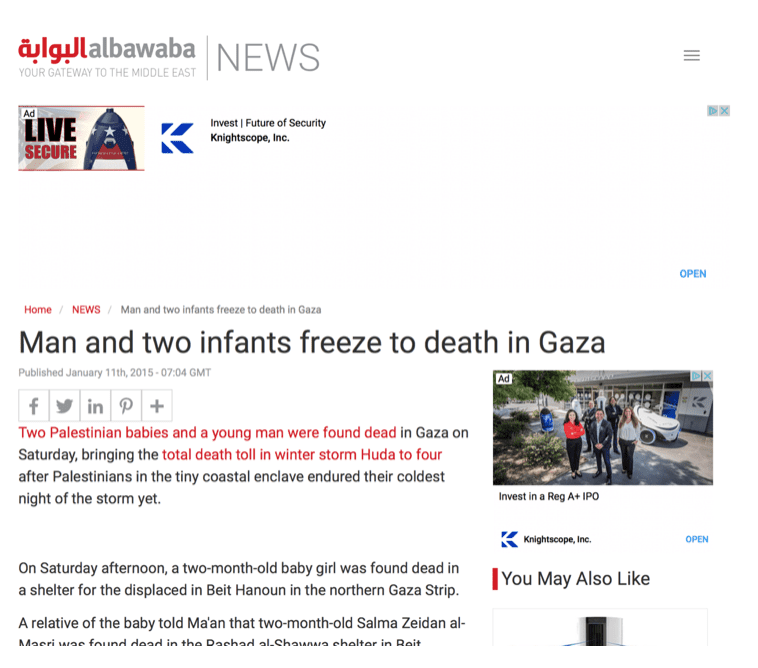 Click HERE to view website
Man and two infants freeze to death in Gaza
Published January 11th, 2015 – 07:04 GMT
Two Palestinian babies and a young man were found dead in Gaza on Saturday, bringing the total death toll in winter storm Huda to fourafter Palestinians in the tiny coastal enclave endured their coldest night of the storm yet.
On Saturday afternoon, a two-month-old baby girl was found dead in a shelter for the displaced in Beit Hanoun in the northern Gaza Strip.
A relative of the baby told Ma'an that two-month-old Salma Zeidan al-Masri was found dead in the Rashad al-Shawwa shelter in Beit Hanoun. The relative said the child had turned blue from the cold by the time she was found.
A young fisherman was also found dead in Gaza on Saturday, having perished due to the extreme cold.
Nizar Ayyash, head of the Gaza Fishermen's Union, told Ma'an that Ahmad Sufian al-Lahham, 22, died while working on the shore west of Khan Younis in the southern Gaza Strip.
The deaths on Saturday afternoon came after a newborn was found dead earlier in the day. One-month-old baby Adil Maher al-Lahham succumbed to severe cold in his home in western Khan Younis.
Two-month-old infant Rahaf Abu Assi, meanwhile, died of severe cold on Friday in Rafah due to lung problems caused by the cold.
Her family was living in a home that was partially destroyed by Israel during bombardment over the summer.
In the four days since Storm Huda landed in the Holy Land, scores of families in Gaza have been evacuated from their homes due to flooding.
CLICK 'HOME' TO RETURN TO GALLERY: