THE ORIGINAL HUMANIZE PALESTINE NARRATIVE:
Memorializing Palestinian Terrorists
IN MEMORY: RIZQ, SAADIYEH, MAHMOUD, AND YOUSSEF ABU TAHA
Click HERE to view original Humanize Palestine Website (Use Back Arrow to Return)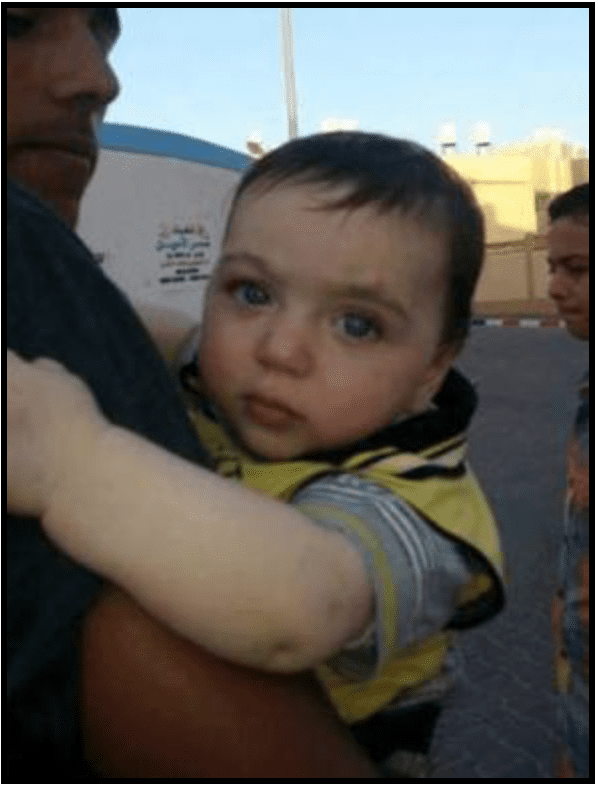 Rizq Abu Taha, a baby less than a year old, was killed on Saturday August 2, 2014, in an Israeli air strike targeting his home in Rafah, Gaza. Three other members of the Abu Taha family were killed, identified as:
Saadiyeh Abu Taha, 40 years old
Mahmoud Abu Taha, 27 years old
Youssef Abu Taha
Source: Ma'an News Agency, Holy News Network
3 THOUGHTS ON "IN MEMORY: RIZQ, SAADIYEH, MAHMOUD, AND YOUSSEF ABU TAHA"
ROBYN TOWNSEND August 3, 2014 at 3:48 am REPLYThere are just no words to describe this outrage. It is beyond chilling – it is Satanic. The world is must stand up and stop the Zionist States of America from arming and supporting these monsters.Liked by 1 person
SKYWALKERSTORYTELLER August 4, 2014 at 8:11 am REPLYMay they rest in peace. Om mani padme humLike
PRESSING REFRESH August 5, 2014 at 9:52 am REPLYReblogged this on Pressing Refresh and commented:
According to our world leaders, this appears to be acceptable, that Palestine should not complain and just give up their land, resources and human rights. That they should agree to a one-sided treaty and give up what was theirs in the first place and if they don't, they are the ones who refuse peace. Where is the logic in this. Would North America let that happen to them? I think not.Like
*************************
THE FACTUALLY CORRECT NARRATIVE:
Identifying Palestinian Terrorists
TARGETED PRECISION MILITARY STRIKE*, FAMILY MEMBER: RIZQ ABU TAHA
*The specific targeting of an individual by the IDF requires meticulous planning utilizing all the tools available to the intelligence community. After the intelligence is analyzed and the target clearly identified, decisions are made that specify when the attack is to take place, what type of precision weapon to use, and how the attack will minimize civilian casualties and collateral damage.
Planning a targeted military strike utilizing a precision weapon in a civilian environment is a very complex process involving multiple intelligence sources, cutting edge technology, and weeks of planning involving many individuals from an array of disciplines within the military/security apparatus.
In this particular incident, the target of the strike was not in the house at the time of the attack and innocent civilians, members of the family were killed.
"Surgical precision – The story behind Israel's targeted killings" can be read by clicking HERE
THE INCIDENT
AL MEZAN CENTER FOR HUMAN RIGHTS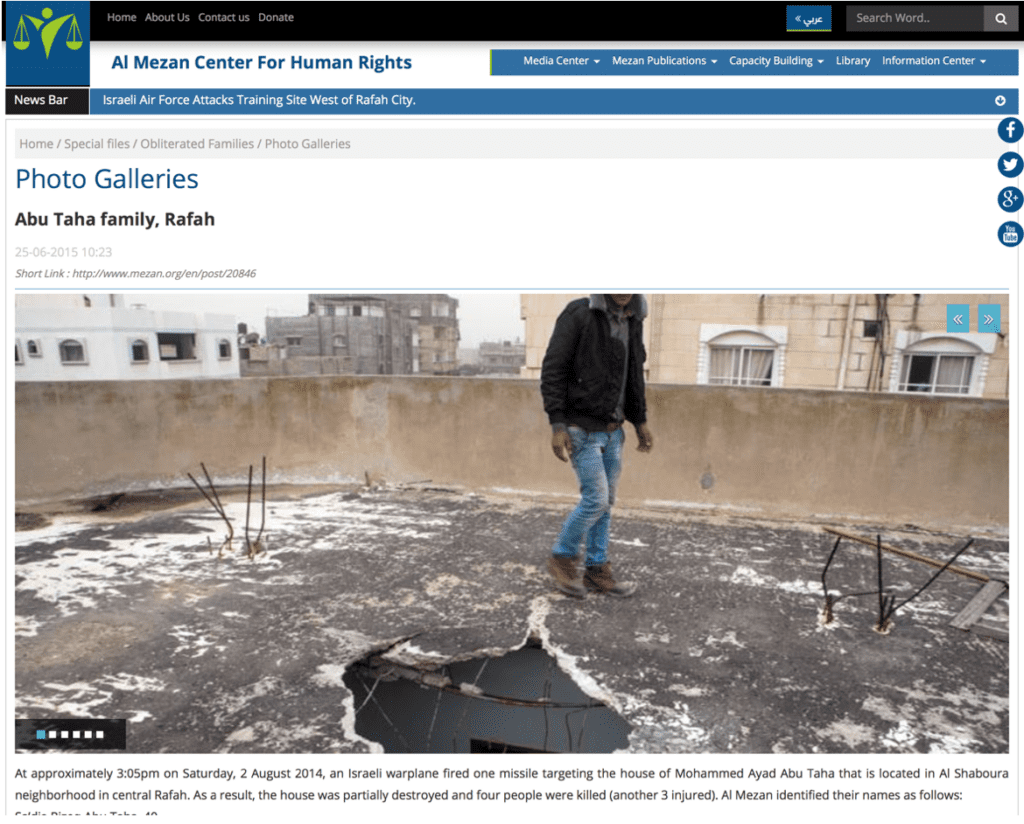 Click HERE to view website
Abu Taha family, Rafah
25-06-2015 10:23
At approximately 3:05pm on Saturday, 2 August 2014, an Israeli warplane fired one missile targeting the house of Mohammed Ayad Abu Taha that is located in Al Shaboura neighborhood in central Rafah. As a result, the house was partially destroyed and four people were killed (another 3 injured). Al Mezan identified their names as follows:
Sa'dia Rizeq Abu Taha, 40
Rizeq Ismail Abu Taha (one year). Grandson of Sa'dia and Mohammed
Mohammed Mahmoud Rizeq Abu Taha (12)
Yousef Mahmoud Rizeq Abu Taha (10)
The house attacked belonged to 50-year-old Mohammed Ayad Abu Taha, who is a field officer in UNRWA. At the time of the attack, Mohammed was in Jordan and learned about the news from the television news.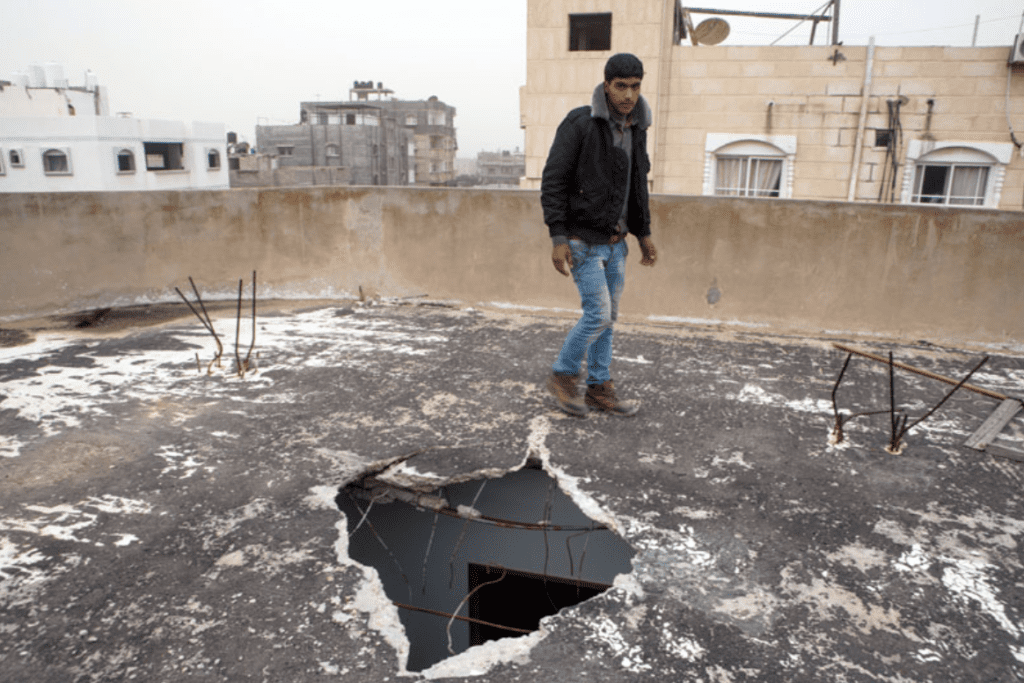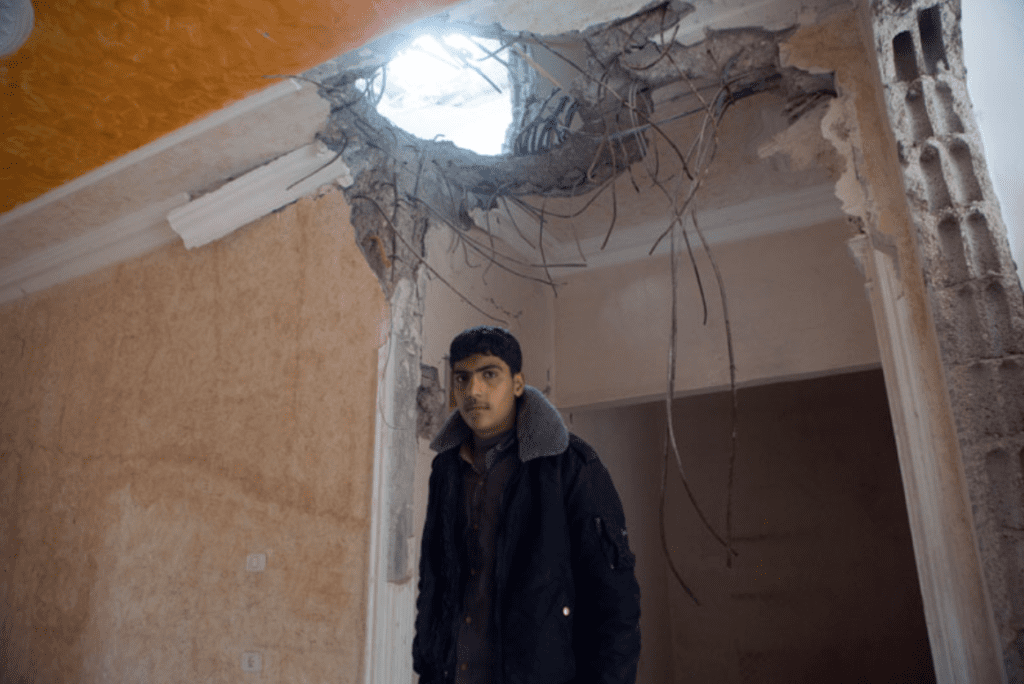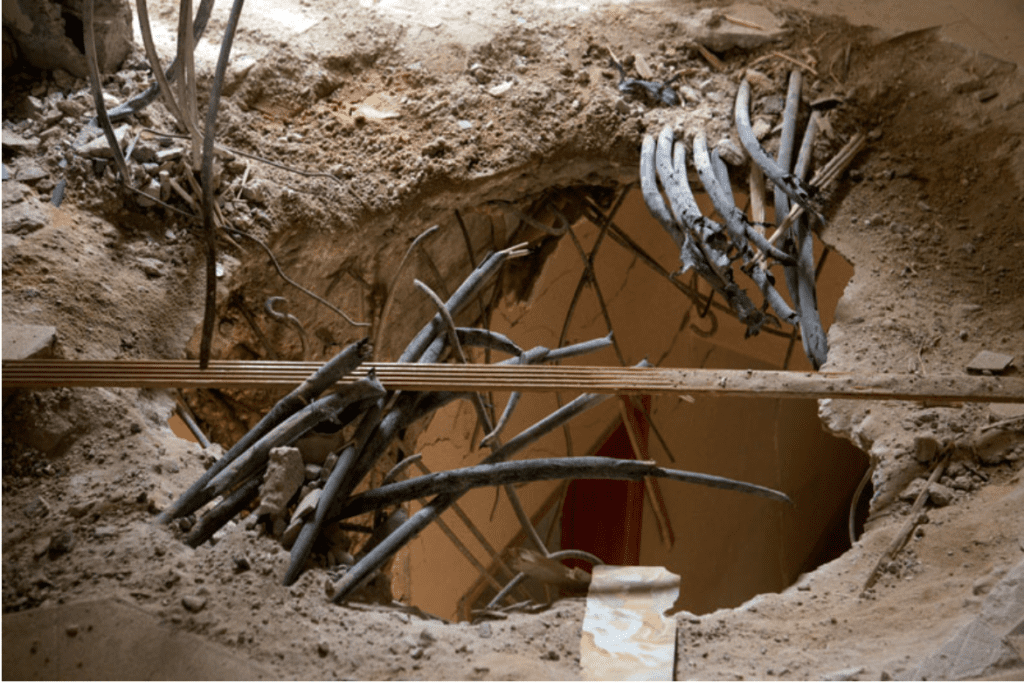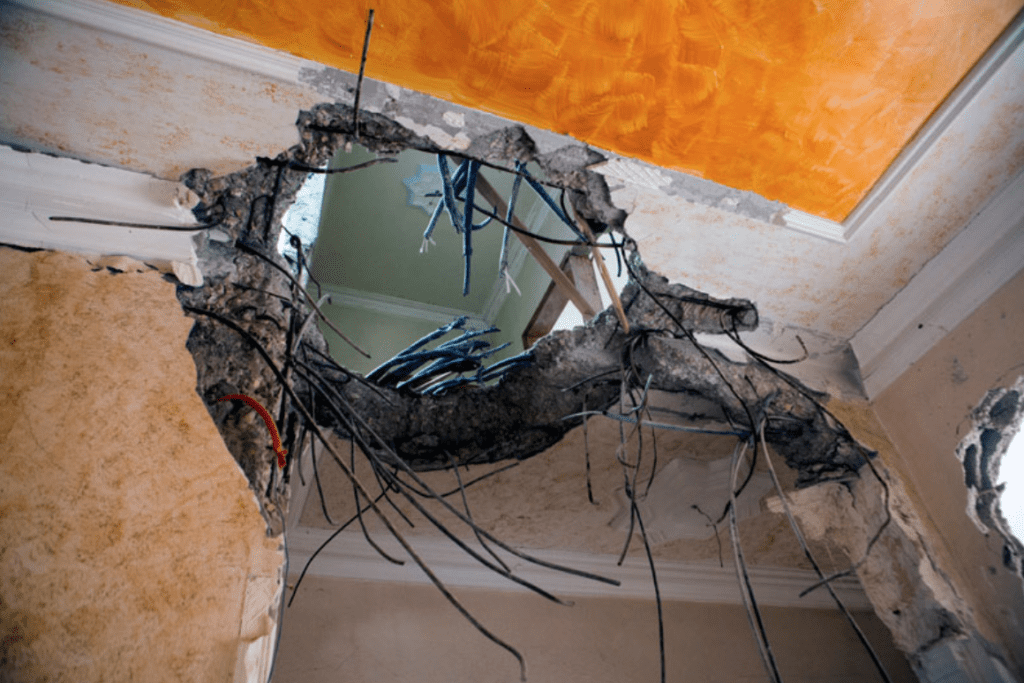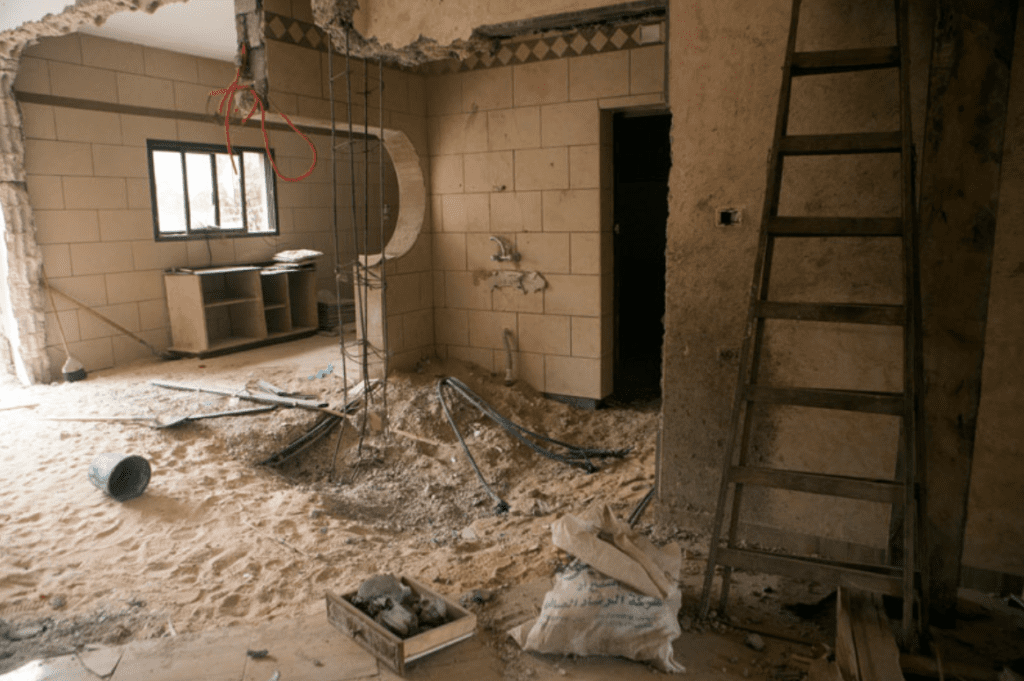 AL MEZAN CENTER FOR HUMAN RIGHTS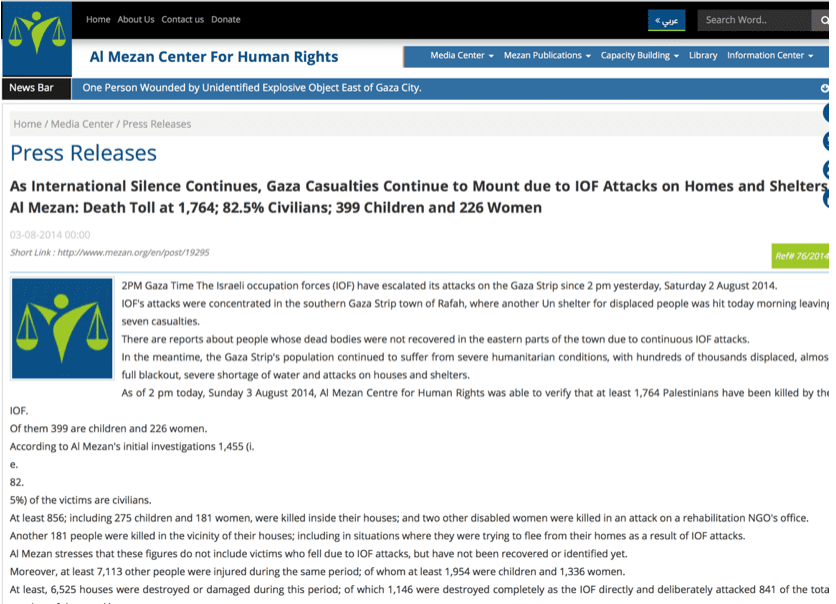 Click HERE to view website
FALSIFIED PALESTINIAN NARRATIVE
At approximately 3:05 pm on Saturday 2 August 2014 IOF aircraft bombarded the house of Mohammed Ayyad Abu Taha, which is located in the Al Shabora refugee camp in Rafah.
The house was totally destroyed and four of the its residents were killed; including two children and a women.
Another three of the family were injured.
The house was completely destroyed and several neighboring houses were damaged.
Those who were killed were identified as: Sa'diyeh Riziq Abu Taha, 45; Riziq Ismail Abu Taham 1; (her grandson) Mohammed Mahmoud Abu Taha, 24; and Yousef Mahmoud Abu Taha, 16.
The house WAS NOT totally destroyed – see the pictures above.
THE TAHA FAMILY
As previously stated, the structure was owned by Mohammed Ayad Abu Taha, and was located in Al Shaboura neighborhood in central Rafah. This is another Taha from Rafah, Mahmoud Ayad Abu Taha, a brother: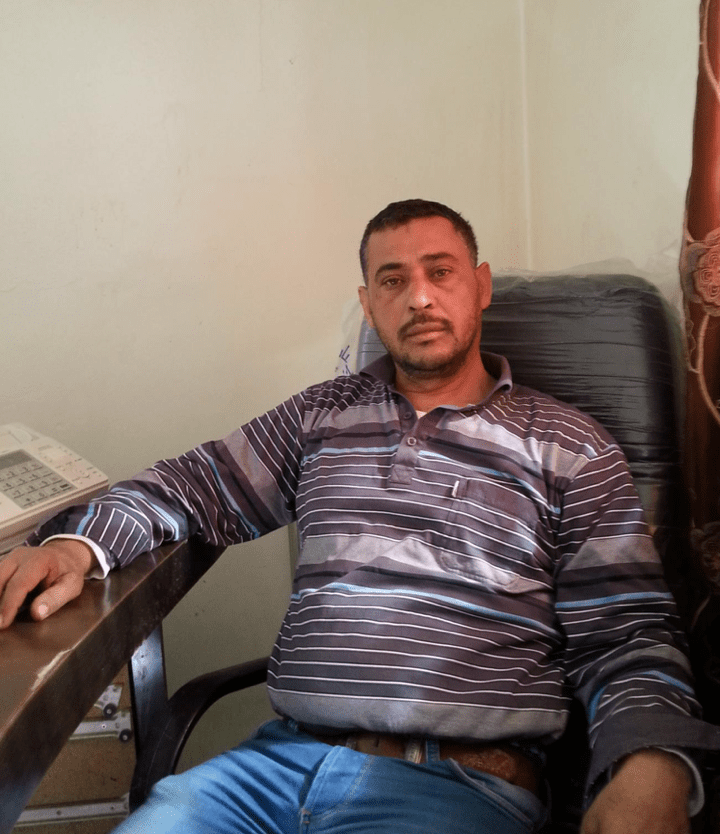 And this is his Facebook page: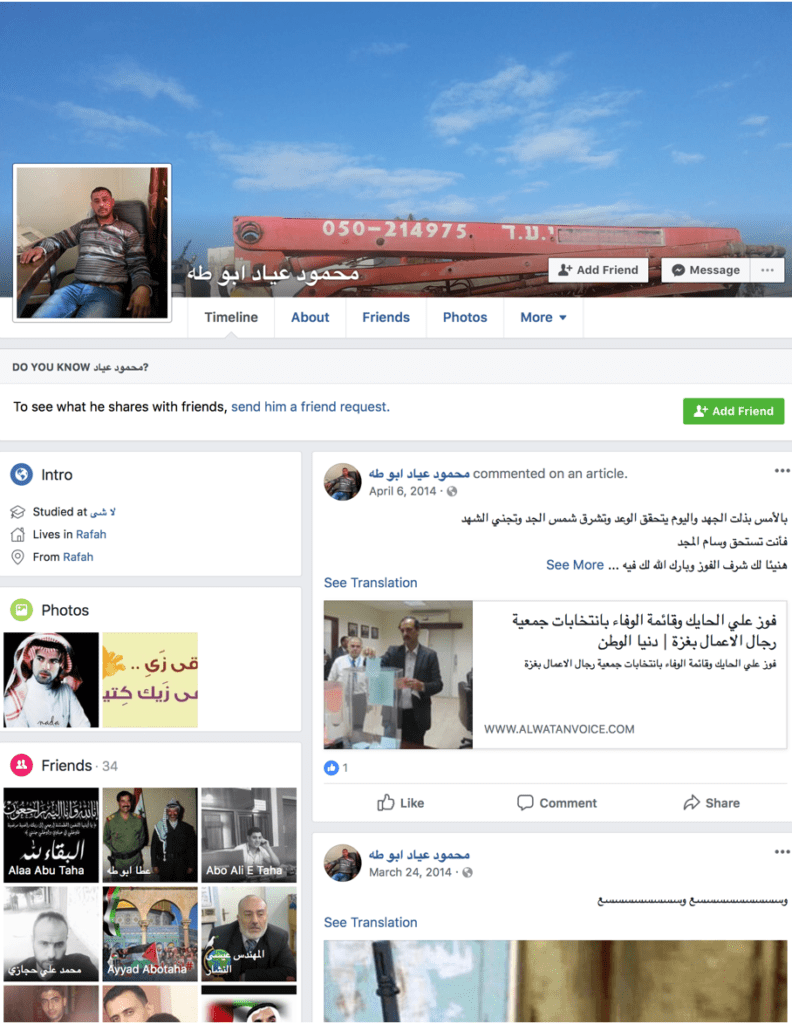 And this appears on his Facebook page: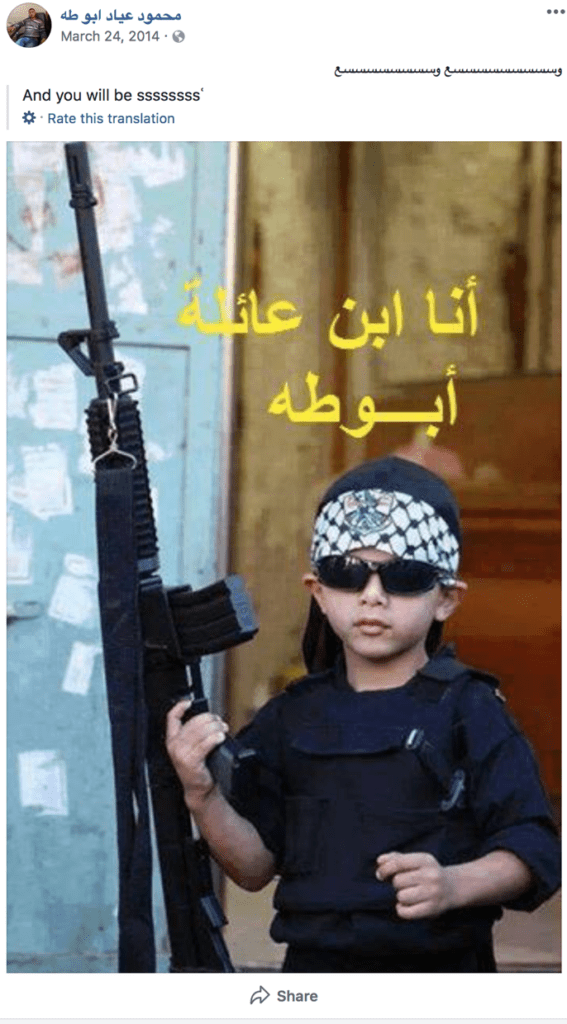 The Fatah logo appears on the child's headband suggesting that the Taha family is a Fatah family.
CLICK 'HOME' TO RETURN TO GALLERY