بتسيلم – محمد كامل الكحلوت
בצלם – מחמד קמל אל-כלוט
THE B'TSELEM FALSE NARRATIVE:
(taken from the B'Tselem webpage)
Muhammad Kamal al-'Abed al-Kahlut
21 years old, resident of Jabalya R.C, North Gaza District, killed on 10 Jul 2014 next to Jabalya, North Gaza District, by a missile fired from an aircraft. Participated in hostilities member of the military wing of Hamas. Additional information: Killed while riding a motorbike with another operative in Hamas's military branch in the east of Jabalya. The other operative was injured and died later of his injuries.
THE FALSE NARRATIVE
"Killed while riding a motorbike …."
THE FACTUAL NARRATIVE:
IZZ AL-DIN AL-QASSAM BRIGADES WEBSITE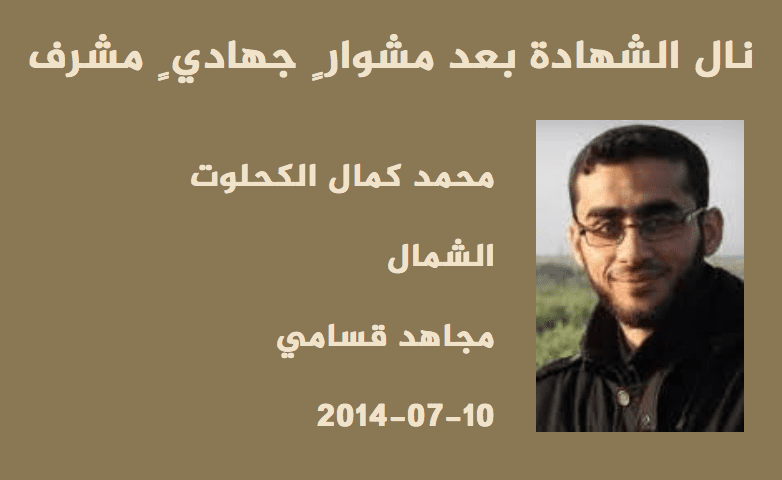 And the beloved is gone.
On July 10, 2014, our martyr al-Qasami was an advanced ambush to hunt and repel the Zionist occupation forces during the battle of al-Aa'aal al-Maqal east of Jabaliya, and during his preparation of the ambush was targeted by a Zionist warplane with two missiles, and Muhammad rose His pure soul overflowed into its righteousness.
GAZA TV
The martyrdom of Muhammad Kamal al-Kahlout in the targeting of a group of citizens in Jabalya
2014/07/10 in the local news
Gaza Media – Jabalia:
A spokesman for the Ministry of Health, Ashraf al-Qadra, the arrival of a martyr to the hospital Kamal Adwan after the bombing of Israeli aircraft to a group of citizens in Jabalya.
Medical sources confirmed that the victim was Mohammed Kamal al-Kahlout, 22, from Jabalya refugee camp.
SUMMARY
Mohammad Kamel al-Kahlout WAS NOT killed while riding a motorbike. He was in a combat position, an "advanced ambush". In the process of preparing the ambush site he was located, identified, targeted and killed by two missiles fired by an Israeli aircraft.
The Gaza TV article corroborates the Izz al-Din al-Qassam Brigades narrative, no motorbike. Al-Kahlout, together with "a group of citizens", was attacked by an Israeli aircraft. Again, there is no mention of a motorbike. It should be noted that the Palestinian media always refers to all terror operatives killed as "citizens".
Read Mohammad Kamel al-Kahlout's complete narrative by clicking HERE
VICTIMIZATION
As previously stated, the B'Tselem databases create the illusion that Palestinian combatants killed by the Israeli security apparatus are victims, victims of an "occupier". The Mohammad Kamel al-Kahlout narrative is an example of this misinformation.
Al-Kahlout, B'Tselem alleges, was killed while riding a motorbike. This false narrative effectively conceals what he was really doing when he was targeted and killed by two missiles.
The B'Tselem narrative is not even closely related to reality. Al-Kahlout was killed while setting up an ambush site, not while riding a motorbike. The question becomes, why would B'Tselem present a narrative so far from the truth. The Answer: In addition to concealing al-Kahlout's activities when he was targeted and killed, the B'Tselem narrative has made al-Kahlout a victim, a victim of an attack on an unarmed individual riding a motorbike.
Mohammad Kamel al-Kahlout, the terror operative combatant, re-imagined by B'Tselem as the victim.
While the B'Tselem databases have re-imagined Palestinian terror operative combatants as victims, the U.S. Department of Justice has identified who the truthful victims were, they closed down a Hamas fundraising scheme and will redirect the Hamas assets to the factual victims, the victims of their terrorism. The event documented below occurred in August 2020:
U.S. DEPARTMENT OF JUSTICE SEIZURE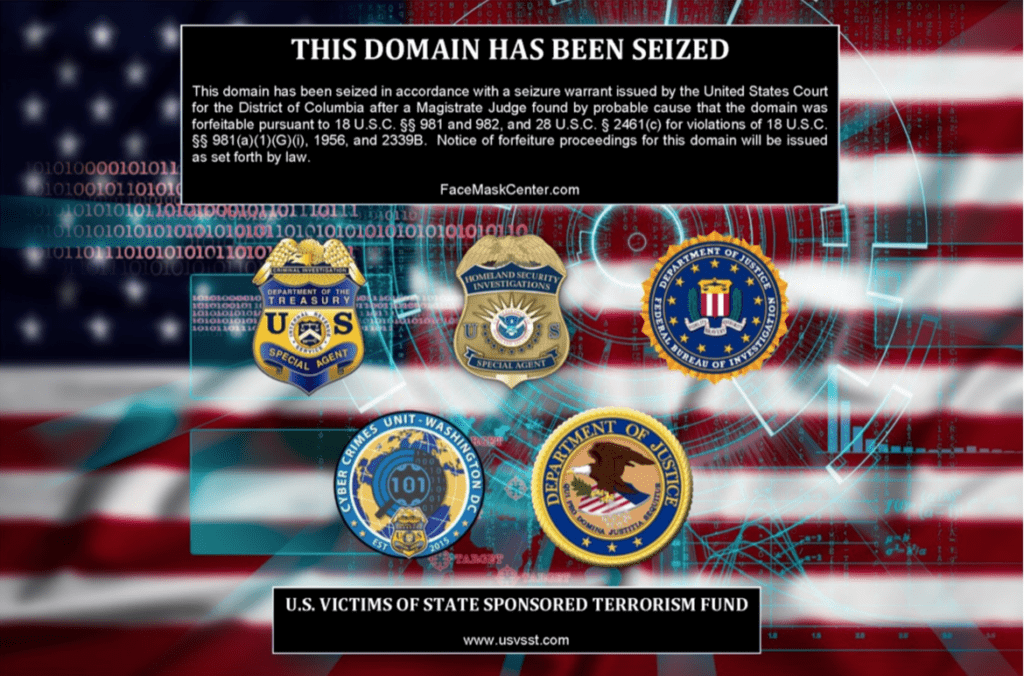 The original Humanize Palestine website memorialized Hamas and al-Qassam Brigades terror operatives, and B'Tselem represented them as victims, Mohammad Kamel al-Kahlout is one example.
Now the real victims have been identified. The U.S. Department of Justice has seized al-Qassam Brigades assets, funds and websites, used to finance their terror campaigns. The monies will be directed to the United States Victims of State Sponsored Terrorism Fund.
To read about the United States' largest-ever seizure of cryptocurrency in the terrorism context, click HERE.
CLICK 'B'TSELEM' TO RETURN TO "B'TSELEM – THE FALSE NARRATIVES"
CLICK 'HOME' TO RETURN TO THE GALLERY