*************************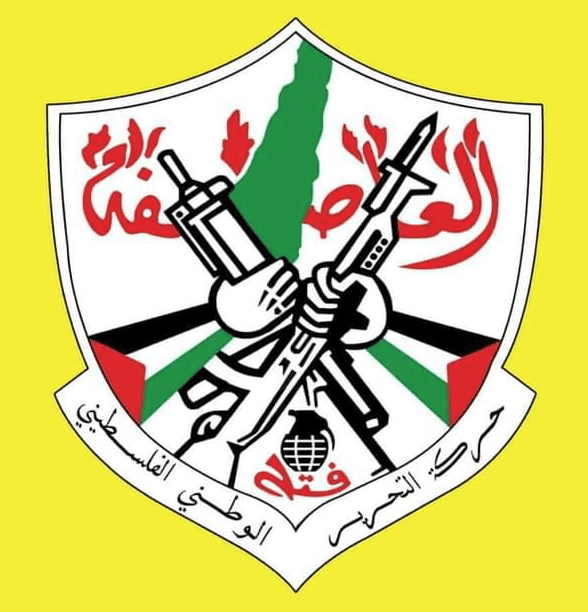 NADEEM SIAM NUWARA, ONE OF 25 FATAH TERRORISTS, OPERATIVES, AFFILIATES ON THE ORIGINAL HUMANIZE PALESTINE WEBSITE
The original Humanize Palestine websites were created as a memorial for martyred Palestinian terror operatives.
To view photographs of the 25 Fatah terrorists, operatives, and affiliates found on the Humanize Palestine websites' photo gallery, click HERE.
لمشاهدة صور 25 إرهابياً من فتح، وعملاء، ومنتسبين موجودين في معرض الصور الفوتوغرافية لمواقع الإنترنت لـ"أنسِر فلسطين"، انقر هنا.
*************************
THE ORIGINAL HUMANIZE PALESTINE NARRATIVE:
Memorializing Palestinian Terrorists
IN MEMORY: NADEEM SIAM NUWARA
Click HERE to view original Humanize Palestine Website (Use Back Arrow to Return)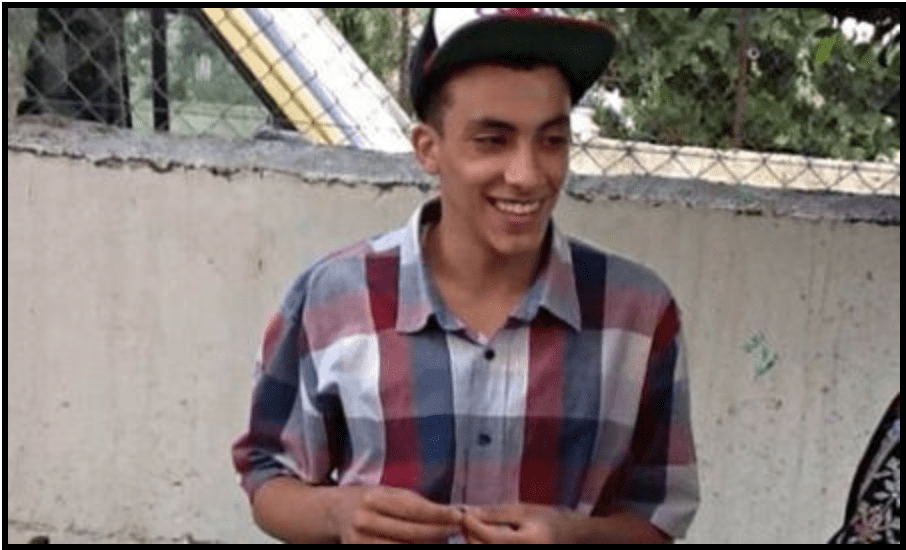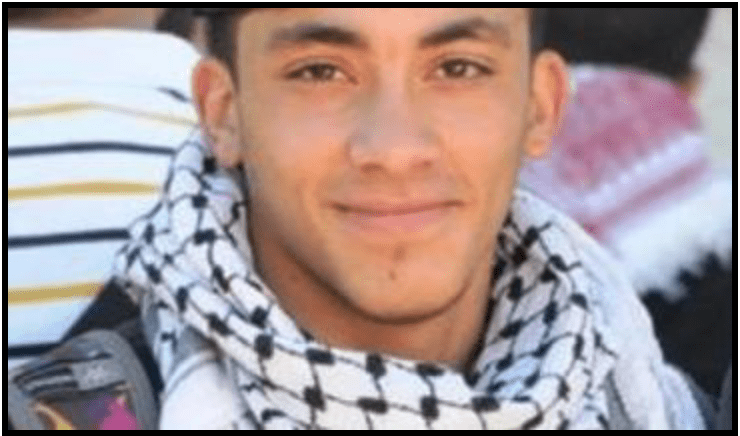 Pictured above: Nadeem Siam Nuwara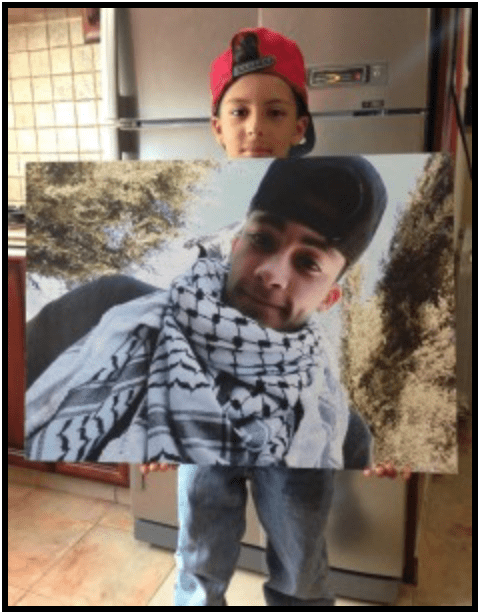 Pictured: Daniel Nuwara holds a photo of his brother, Nadeem
Nadeem Siam Nuwara, 17 years old, was shot and killed by the Israeli military during Nakba Day protests on May 15, 2014 in the West Bank town of Betunia. Muhammad Mahmoud Odeh Abu Al-Thahir, was also killed on the same day. Nuwara was protesting Israel's use of administrative detention, in a demonstration near Ofer military prison, when he was shot. Nadeem's mother, Nahil Nuwara, told the Electronic Intifada "My son was a sweet and innocent boy."
From the Electronic Intifada:
His father, mother, older sister and younger brother described Nadeem as an affectionate, patient and innocent child. They explained that amid the flurry of statistics and heated political debates, the media too often robs Palestinian children killed by Israel of their individuality.
"All of his friends have visited us since he died," Daniel, his ten-year-old brother, said. "They said they will be my brothers now, that if I need anything, they will help me."
"One of the first things we did together was when he taught me how to play basketball," Daniel said, adding that Nadeem used to spend several nights a week staying out late with friends and playing sports.
"I thought this summer was going to be very fun with my brother," said Daniel. "I thought Nadeem and I were going to be able to play together a lot. But he's gone now and this is going to be a very bad summer."
Following their son's death, the parents have received an outpouring of support from the local community. The Saint George School in Ramallah, where Nadeem was in eleventh grade, renamed an auditorium after him and hosted a public memorial to celebrate the boy's life. ….
"He was a 17-year-old child wearing a backpack, and they sentenced him to death because he wanted to express his opinion … to say that he still hasn't forgotten about our 66 years of Nakba."
His father, Siam Nuwara, said:
Before my child was killed I was so happy to watch him grow up into a strong young boy. He helped me with everything, he was such a loving son, and he was so sweet to his mother and sister. He never walked into the house without giving us all hugs and kisses. He filled the house with laughter and happiness all the time. I based so much hope on him. Beautiful, innocent, amazing and well-behaved….
I was lost and couldn't believe that my son, the love of life, my little boy with the most beautiful smile in the world, the athlete, the sweet animal lover won't be by my side ever again. I never expected that I would ever walk into the house, his room, and not find him there.
Humanize Palestine have recently reached out to Nadeem's father, Siam Nuwara. Nadeem's family has since started a Go Fund Me account to raise money for Nadeem's legal case. Since the death of his son, Nuwara has sold his business and his car in order to pay expenses of his son's case.
Please donate at: http://www.gofundme.com/justice4nadeem
Sources: Electronic Intifada, The Guardian

THE MEMORIALIZATION OF A FATAH OPERATIVE
(By the original Humanize Palestine Website)
5 THOUGHTS ON "IN MEMORY: NADEEM SIAM NUWARA"
*************************
THE FACTUALLY CORRECT NARRATIVE:
Identifying Palestinian Terrorists
FATAH OPERATIVE: NADEEM SIAM NUWARA
THE INCIDENT
WIKIPEDIA
Click HERE to view Wikipedia webpage
15 May 2014 Ofer Prison demonstration
At Beitunia, 150 Palestinians attended the commemoration [Nakba Day],which took place outside Ofer Prison… The Palestinians, among them the two boys later killed, threw rocks and Israeli police employed riot dispersal measures. Israeli sources reported the demonstration turned violent at times, while Palestinian sources say it began peacefully, but turned violent when the demonstrators were shot at by live fire to disperse stone-throwers. In addition to stone-throwing, burning tires were rolled towards Israeli security forces, and Israeli sources stated that five Molotov cocktails were thrown at policemen and a police bomb squad had destroyed an explosive device. Police responding by shooting tear gas canisters, stun grenades and the firing of rubber bullets. Four Palestinian protestors were shot at the Beitunia demonstration, on the same patch of asphalt. They were Nadim Nuwara (17); Mohammad Mahmoud Odeh Salameh (Abu Thaher; 17); Muhammad al-'Azza (15), and a fourth man (aged 23), who remains unidentified. The shootings took place in a sequence of three separate incidents. The first casualty was Muhammad 'Azzah, 15, who was shot and wounded in the chest at around 12:20 p.m. The first fatality that day was Nuwara, who was shot some 15 meters from where Azzah had been hit. He was shot through the chest at 13:45. Salameh (17) was fatally shot in the same location at 14:58. He was pronounced dead on arrival by doctors having been shot in the back.
Israel investigation and trial of border policeman
The Israeli military promised to investigate the incident. One soldier had been suspended on May 28 while investigation was continuing….
On 11 November 2014, the Judea and Samaria District Police arrested an Israeli border policeman after forensic evidence matched his gun to a bullet found in the backpack of one of the deceased. It was stated that the policeman would be charged with murder….
On 14 December 2014, the Jerusalem District Court cleared for publication the name of the Border Police officer who was identified as Ben Dery….
In December 2016 The Times of Israel reported that Deri (alternative spelling: Dery) had changed his initial claim that he fired only rubber bullets to one in which he admitted firing live rounds at the two teenagers who were some distance away from him. He was also accused of trying to cover up his actions at the time. … a plea deal was reached in which Deri's charge was to be reduced from murder to that of "wrongful death".
On 25 April 2018 a Jerusalem court found Ben Deri guilty of "causing death by negligence"….
The court sentenced Deri to 9 months in prison [The sentence was later doubled to 18 months.]

NADEEM SIAM NUWARA'S FATAH AFFILIATION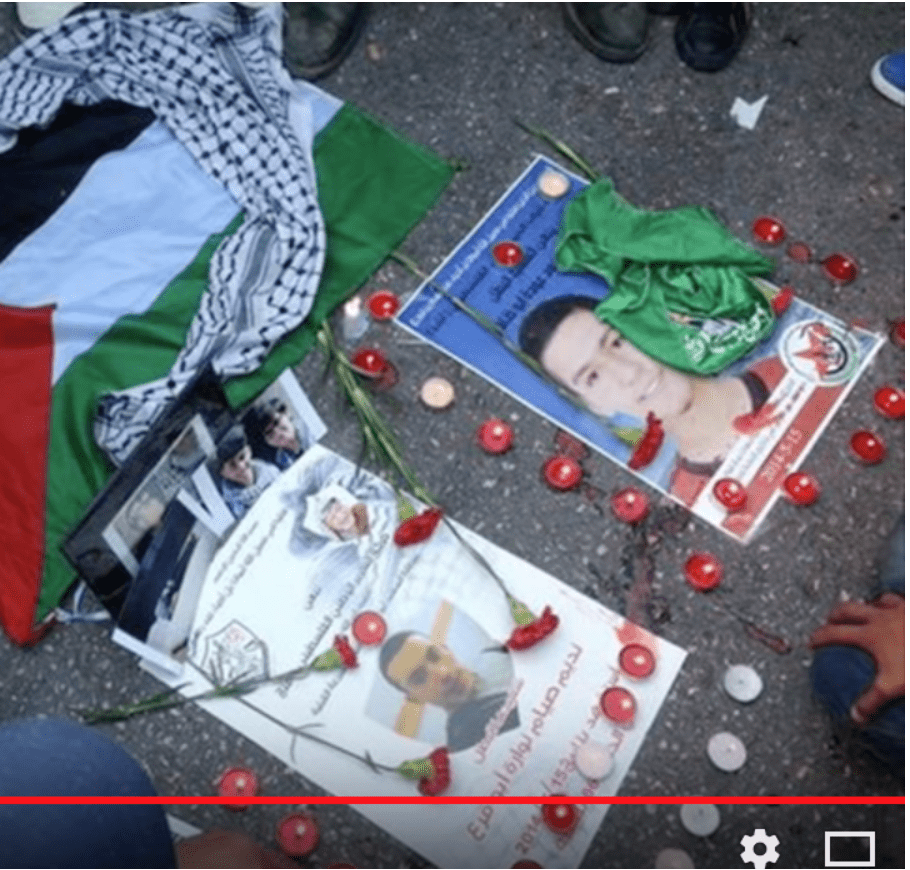 Nuwara (L) was affiliated with Fatah and Thahir (R) was affiliated with Hamas
FUNERAL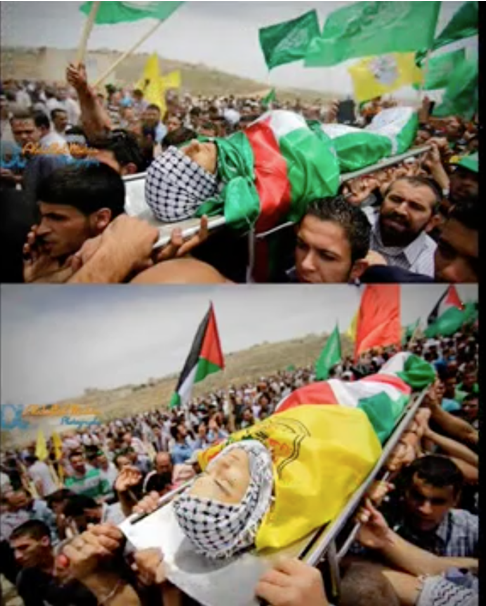 YOUTUBE VIDEO
Click HERE to view video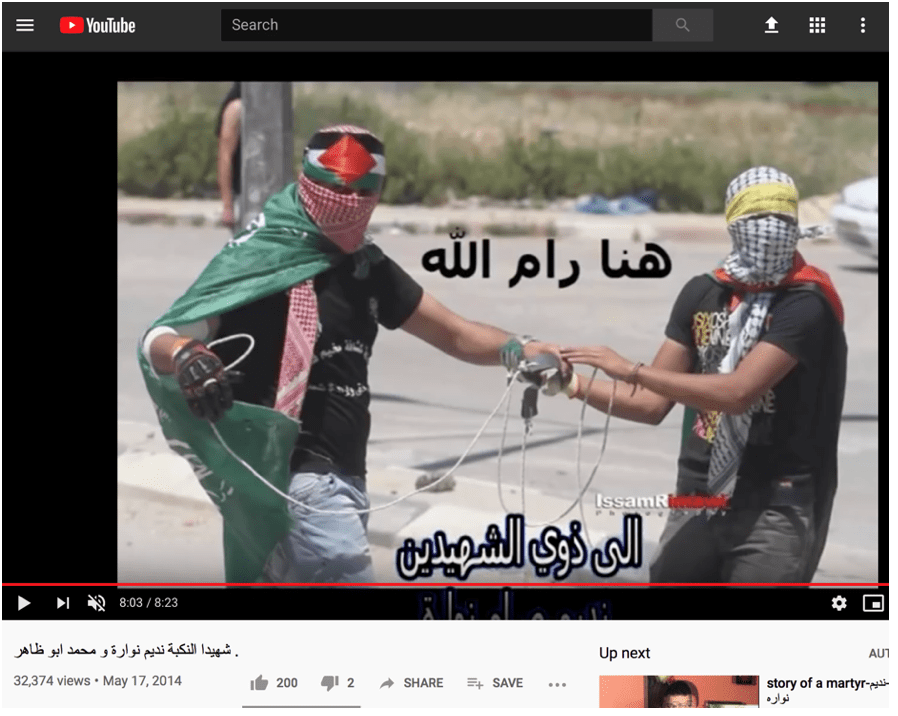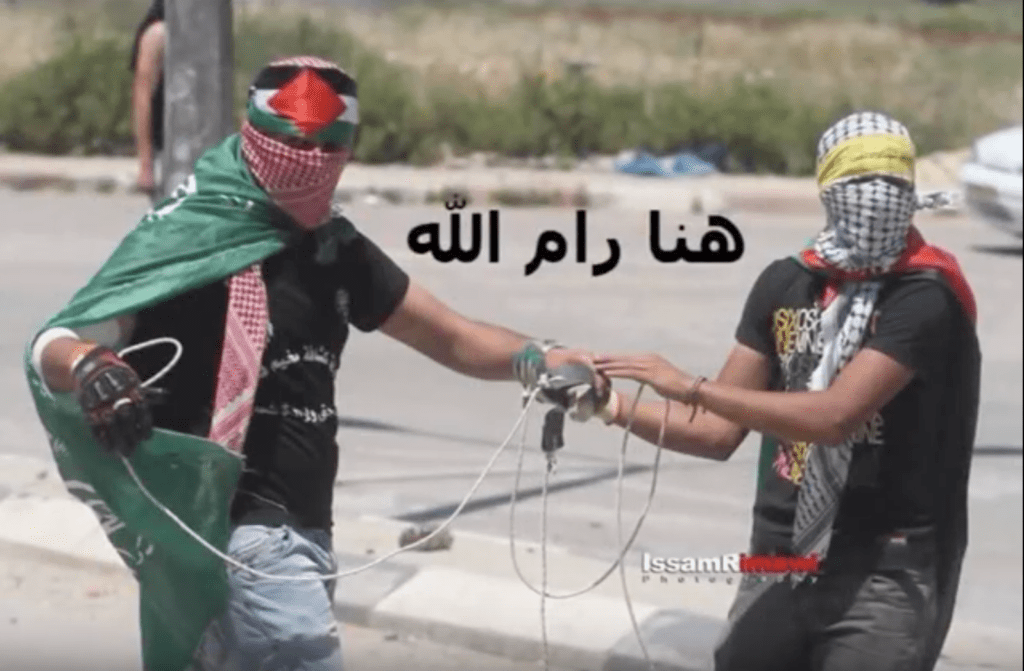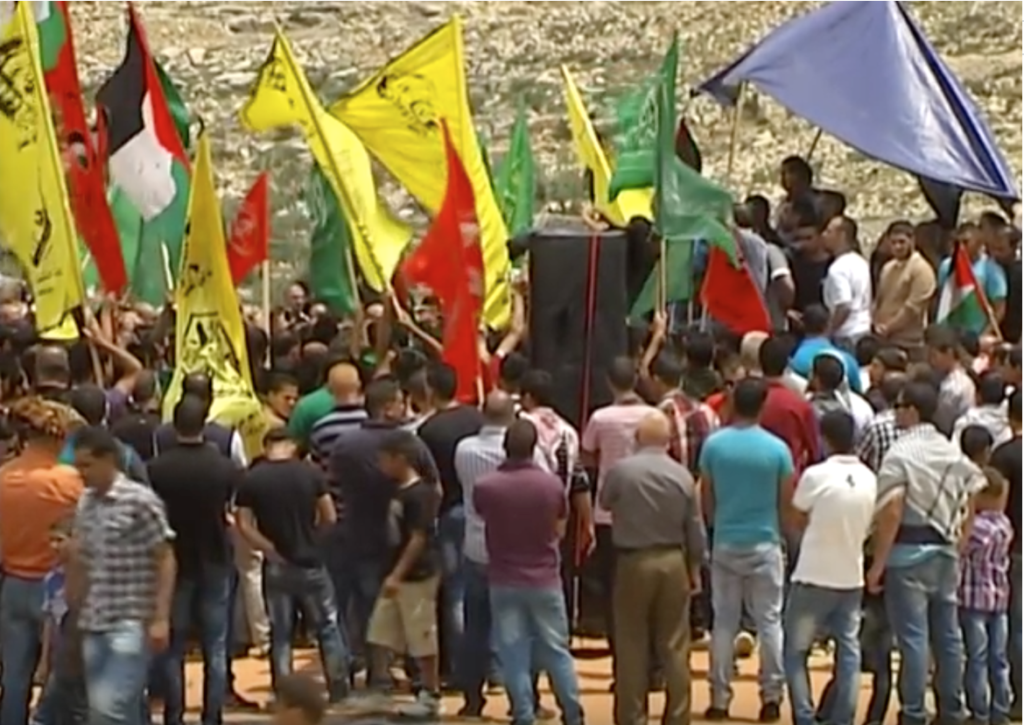 CLICK 'HOME' TO RETURN TO GALLERY: