*************************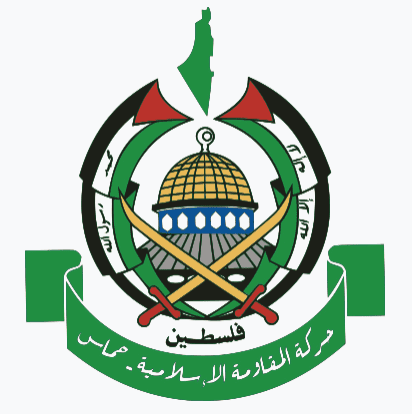 MOHAMMED DAHER, ONE OF 18 HAMAS TERROR ORGANIZATION AFFILIATES ON THE ORIGINAL HUMANIZE PALESTINE WEBSITE
The original Humanize Palestine websites were created as a memorial for martyred Palestinian terror operatives.
To view photographs of the 18 Hamas terrorist operatives and affiliates found on the Humanize Palestine websites' photo gallery, click HERE.
لمشاهدة صور لـ 18 ناشطاً إرهابياً من حركة حماس و 18 منتسبين تم العثور عليهم في معرض الصور الفوتوغرافية لمواقع "إضفاء الطابع الإنساني على فلسطين"، انقر هنا.
*************************
THE ORIGINAL HUMANIZE PALESTINE NARRATIVE:
Memorializing Palestinian Terrorists
IN MEMORY: 6 MEMBERS OF DAHER FAMILY
Six members of the Daher family were killed by Israel's Shujaiyya massacre on July 20, 2014:
Majed Yousef Mohammed Daher, 54 years old
Hanan Ramdan Daher, 48 years old
Narmin Majed Yousef Daher, 13 years old
Shaima' Majed Yousef Daher, 10 years old
Adham Majed Yousef Saher, 18 years old
Mohammed Daher, 27 years old
Dana Daher, 1 year old, was Mohammed's daughter
Majed, Hanan, Narmin, Shaima' and Adham died immediately in the attack. The martyrs' bodies were pulled from the rubble after five days of the airstrike due to the heavy shelling. Mohammed died from wounds a week later.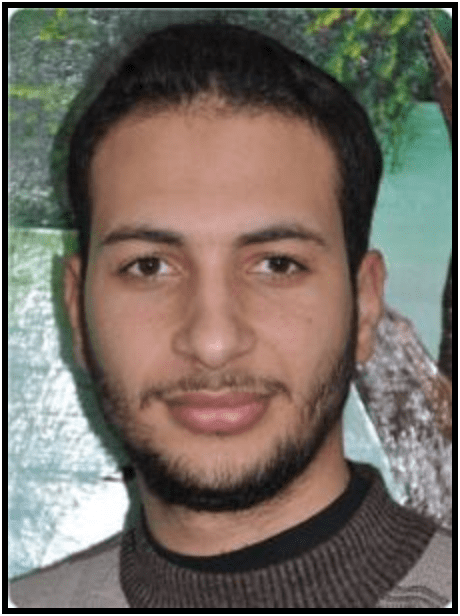 Mohammed Daher, 27 years old, died on July 31, 2014 of injuries he sustained when Israeli warplanes targeted his home in the Shujaiyya massacre of July 20. Mohammed was a financial editor and journalist for al-Risalah newspaper in Gaza. He was the ninth journalist to be killed by Israel in the latest attacks.
Mohammed's wife, Shaima, described her late husband as a loving father and husband, dedicated journalist and "a loved man, who helped everyone he could. Neighbors and friends all loved him very much." In addition to his five years of work at Al-Resaleh, Daher printed a regular newsletter on the local economy. Mohammed did not live to see the birth of his son and will never see his one-year-old daughter grow up. About her newborn son, Shaima said: "I named him after his father. He's only two months old now, but I hope he will grow up to look like his dad."
Sources: IMEMC, Al-Arabiya News, Palestinian Information Center, PCHR. Al Haq, Electronic Intifada, Al-Monitor
THE MEMORIALIZATION OF A PALESTINIAN TERRORIST
(By the original Humanize Palestine Website)
2 THOUGHTS ON "IN MEMORY: 6 MEMBERS OF DAHER FAMILY"
JANE ROSSITER-SMITH August 3, 2014 at 1:38 am REPLYMohammed, you and so many members of your family massacred. Such precious lives. You told the world the truth. We will fight on in your name and memory.
Sincere condolences to all the family and friends of the Daher family.
JaneLike
A August 4, 2014 at 9:05 am REPLYMay Allah swt give you all Jannah. Ameen.
*************************
THE FACTUALLY CORRECT NARRATIVE:
Identifying Palestinian Terrorists
HAMAS OPERATIVE: MOHAMMED DAHER
MOHAMMED DAHER'S HAMAS AFFILIATION
HAMAS WEBSITE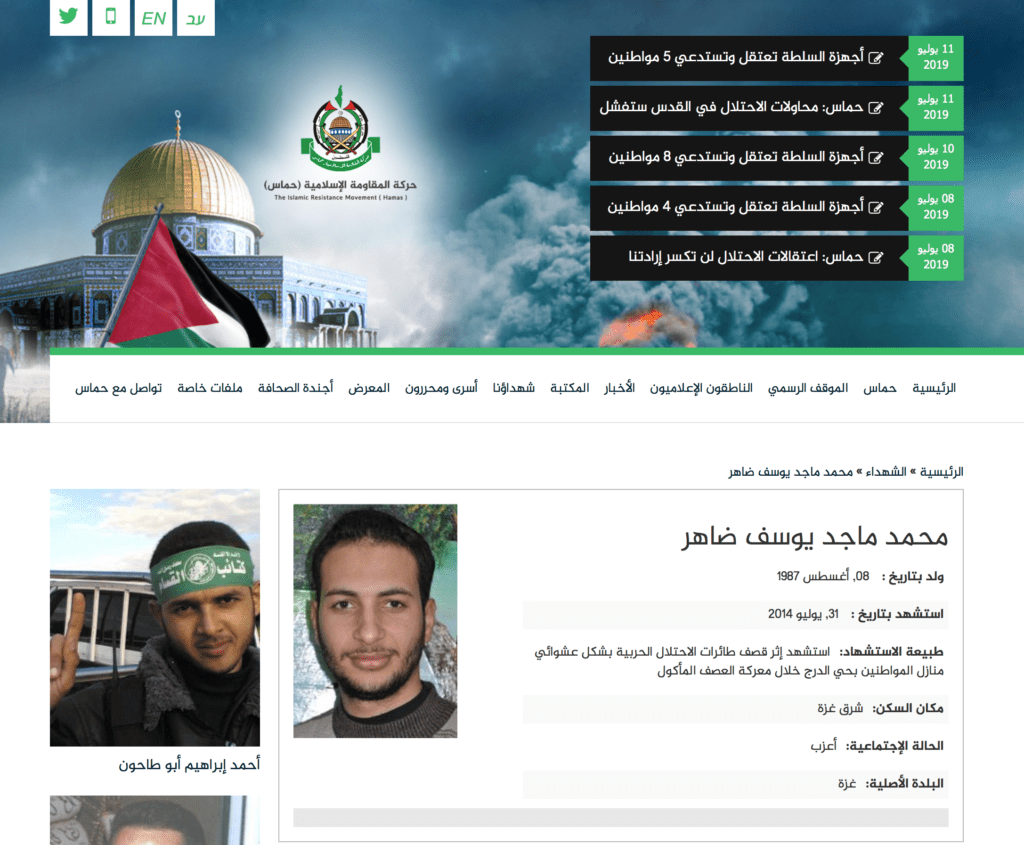 Click HERE to view website
محمد ماجد يوسف ضاهر
ولد بتاريخ 08, أغسطس 1987
استشهد بتاريخ 31, يوليو 2014
طبيعة الاستشهاداستشهد إثر قصف طائرات الاحتلال الحربية بشكل عشوائي منازل المواطنين بحي الدرج خلال معركة العصف المأكول
مكان السكنشرق غزة
الحالة الإجتماعيةأعزب
البلدة الأصليةغزة
ENGLISH TRANSLATION
Mohammed Majid Youssef Dahir
Born 08, August 1987
He was martyred on July 31, 2014.
The nature of martyrdom martyred after the israeli warplanes indiscriminately bombed the homes of citizens in the neighborhood of Al-Darj during the battle of al-Aadal
Where to live east of Gaza
The social status is single.
The original townGaza
MEIR AMIT INTELLIGENCE AND TERRORISM INFORMATION CENTER

Mohamed Majed Daher, editor of Hamas' publication, Al-Resala, "AFFILIATED", affiliated with Hamas
PATENTLY FALSE NARRATIVE, ORIGINAL HUMANIZE PALESTINE WEBSITE
ORIGINAL HUMANIZE PALESTINE WEBSITE
"Mohammed was a financial editor and journalist for al-Risalah newspaper in Gaza"
THE FACTS
FACT #1: al-Risalah is a Hamas newspaper published weekly.
FACT #2: Mohamed Majed Daher was the editor of the Hamas publication.
FACT #3: Mohamed Majed Daher was a member of Hamas, a US designated Foreign Terrorist Organization
ORIGINAL HUMANIZE PALESTINE WEBSITE
"Six members of the Daher family were killed by Israel's Shujaiyya massacre on July 20, 2014"
THE FACTS
There NEVER was a Shujaiyya massacre. The neighborhood was a maze of underground attack tunnels that were built to store ammunition and weapons. They connected above ground structures which were utilized by terror operative combatants. Shujaiyya was the site of some of the most intense fighting of the 2014 Gaza war.

Read more about the false claim of a Shujaiyya massacre by clicking HERE
HAMAS / IZZ AL-DIN AL-QASSAM BRIGADES FUNDRAISING SCHEME
Prior to August 2020, the Hamas and Izz al-Din al-Qassam Brigades websites had a green banner at the top of their home page. This is how the home page of Hamas' TV station, al-Aqsa TV, appeared on March 16, 2020:

Note the green banner at the top of the page:

The green banner contained an embedded URL that linked to the Izz al-Din al-Qassam Brigades website. Clicking on the green banner would open this webpage: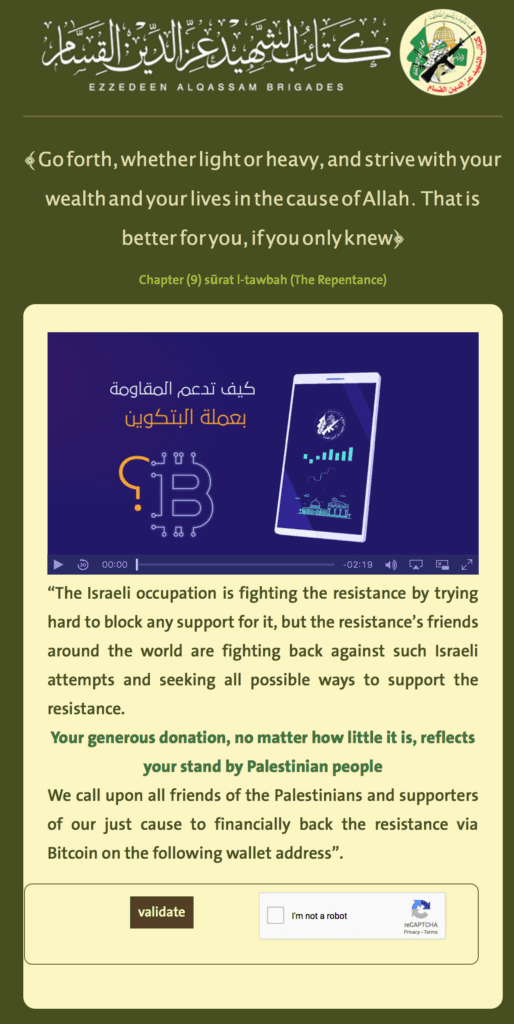 This was a fund raising scheme utilizing cryptocurrency, Bitcoin, to underwrite its terrorism ("resistance"). Note that the solicitation is in English. This would indicate that the fund raising scheme not only targeted Arabic speaking countries but English speaking western countries as well, such as the U.S.
In August 2020, the U.S. government seized the website, funds and assets:
U.S. DEPARTMENT OF JUSTICE SEIZURE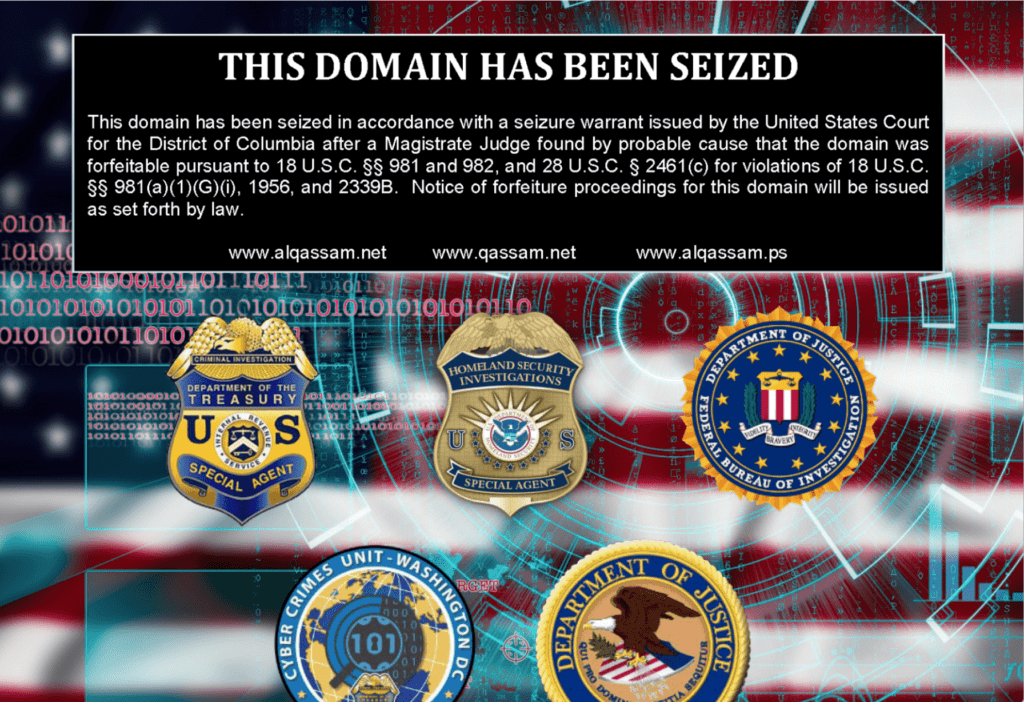 The original Humanize Palestine website memorialized Hamas and al-Qassam Brigades terror operatives, Mohammed Daher was one example. In their own words, they honored the deceased terror operatives as martyrs by bringing them back to life through their pictures, stories, art, and poetry.
Now the victims of these terror operatives have been honored. The U.S. Department of Justice has seized al-Qassam Brigades assets, funds and websites, used to finance their terror campaigns. The monies will be directed to the United States Victims of State Sponsored Terrorism Fund.
To read about the United States' largest-ever seizure of cryptocurrency in the terrorism context, click HERE.
CLICK 'HOME' TO RETURN TO GALLERY