*************************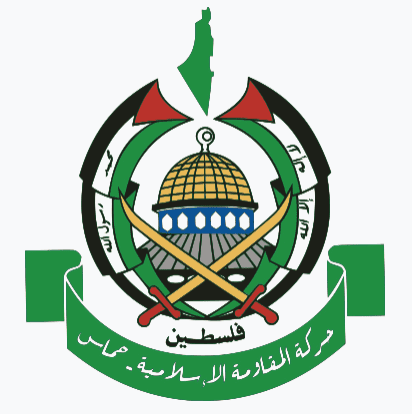 TAYEB ABU SHEHADA, ONE OF 18 HAMAS TERROR ORGANIZATION AFFILIATES ON THE ORIGINAL HUMANIZE PALESTINE WEBSITE
The original Humanize Palestine websites were created as a memorial for martyred Palestinian terror operatives.
To view photographs of the 18 Hamas terrorist operatives and affiliates found on the Humanize Palestine websites' photo gallery, click HERE.
لمشاهدة صور لـ 18 ناشطاً إرهابياً من حركة حماس و 18 منتسبين تم العثور عليهم في معرض الصور الفوتوغرافية لمواقع "إضفاء الطابع الإنساني على فلسطين"، انقر هنا.
*************************
THE ORIGINAL HUMANIZE PALESTINE NARRATIVE:
Memorializing Palestinian Terrorists
IN MEMORY: TAYEB ABU SHEHADA
Click HERE to view original Humanize Palestine Website (Use Back Arrow to Return)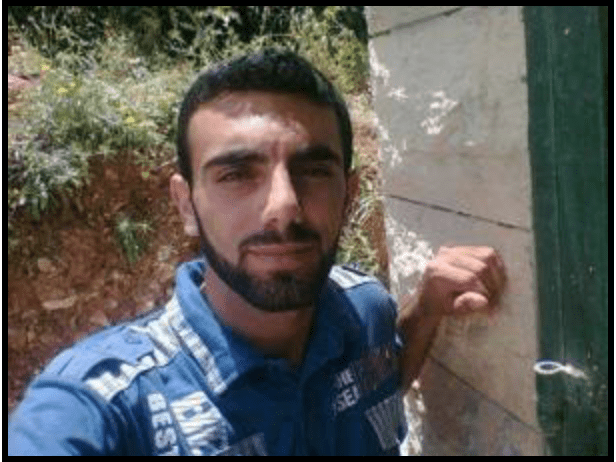 Tayeb Mohammed Abu Shehada, 22 years old, was killed on July 25, 2014. He was shot in the head, under his eye, in the West Bank town of Huwara, near Nablus, during a protest against Israel's assault on Gaza.
He was part of the hacker group Anonymous and wore an Anonymous mask as he protested against the Israeli Occupation Forces.
CyberGuerrilla posted the following:
"Tayyeb Shehadah wasn't only wearing a mask, he was Legion. 1 of us. Today Israel murdered a Anonymous.
To them We shall join their struggle: nor shall We deprive them of the fruit of anything of their works, lower your weapons humbly for them, with mercy, peace and blessings be upon them who seek love."
On the CyberGuerrilla site above is a song dedicated to Tayeb.
Occupied Palestine gathered a collection of #Anonymous messages honoring Tayeb.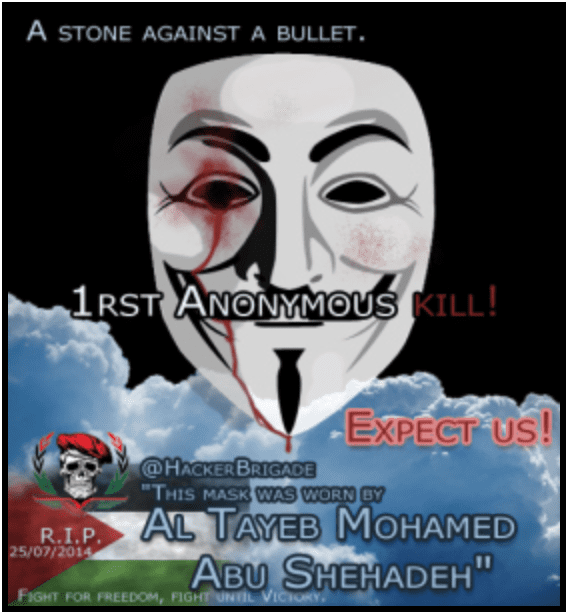 THE MEMORIALIZATION OF A PALESTINIAN TERRORIST
(By the original Humanize Palestine Website)
3 THOUGHTS ON "IN MEMORY: TAYEB ABU SHEHADA"
TULAY AZIZE TUNCAY July 26, 2014 at 4:47 am REPLYWe champion the cause now in your honor. Rest brother in peace.Liked by 1 person
SKYWALKERSTORYTELLER July 26, 2014 at 5:20 pm REPLYMay he rest in peace. Om mani padme hum.
*************************
THE FACTUALLY CORRECT NARRATIVE:
Identifying Palestinian Terrorists
HAMAS TERRORIST: TAYEB ABU SHEHADA
THE INCIDENT
THE JERUSALEM POST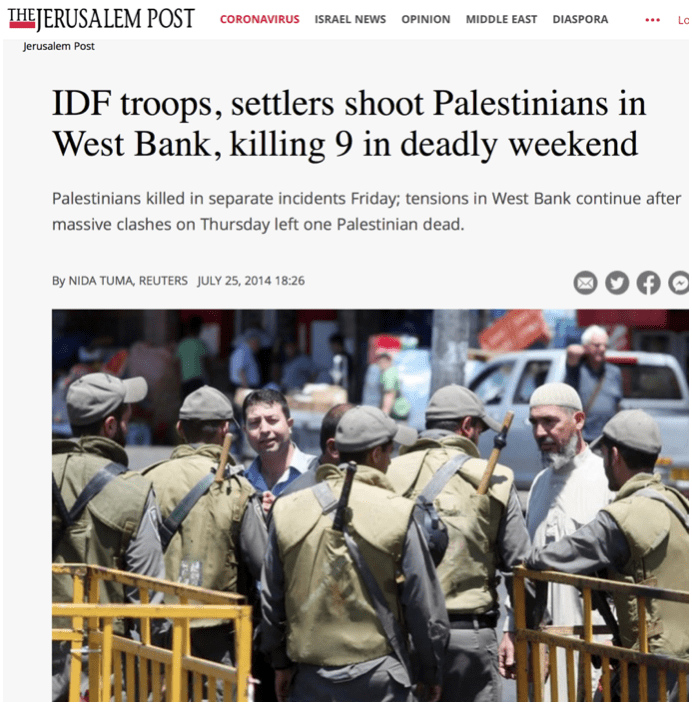 Click HERE to view website
IDF troops, settlers shoot Palestinians in West Bank, killing 9 in deadly weekend
Palestinians killed in separate incidents Friday; tensions in West Bank continue after massive clashes on Thursday left one Palestinian dead.
By NIDA TUMA, REUTERS JULY 25, 2014 18:26
Clashes between Border Police and Palestinian youths throwing Molotov cocktails and fireworks escalated. A Reuters photographer witnessed the forces shoot and kill another, Tayeb Shehadeh, 22.
Border Police could not comment on reports that two Palestinians had been killed, but said the incident was particularly violent. A spokesman said Palestinians threw stones, Molotov cocktails and fireworks at the officers and at Israeli cars on the road. One officer was injured by a cement block.
AL-HAQ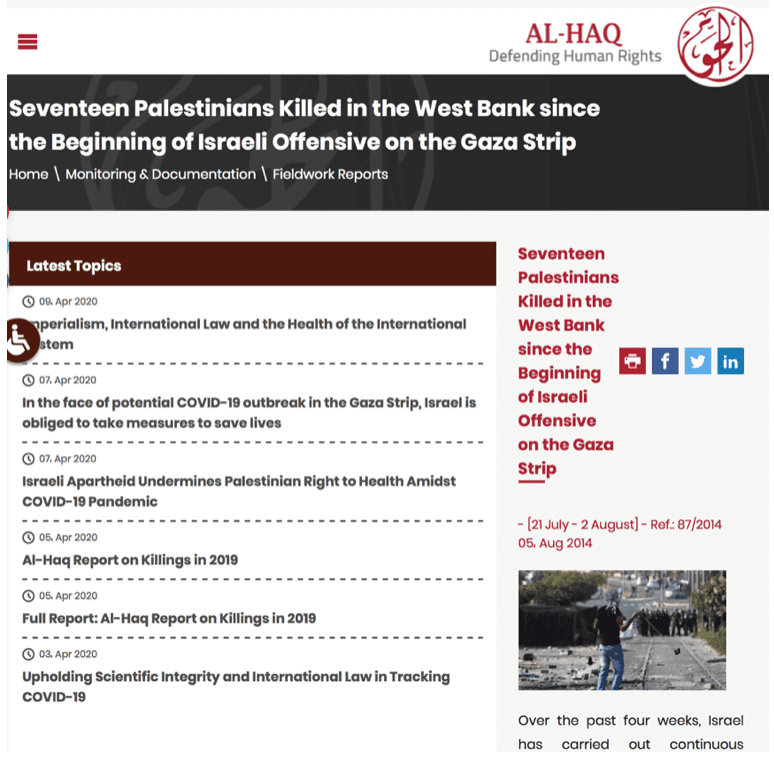 Click HERE to view website
Seventeen Palestinians Killed in the West Bank since the Beginning of Israeli Offensive on the Gaza Strip
Tuesday, 05 August 2014 18:55 – [21 July – 2 August] – Ref.: 87/2014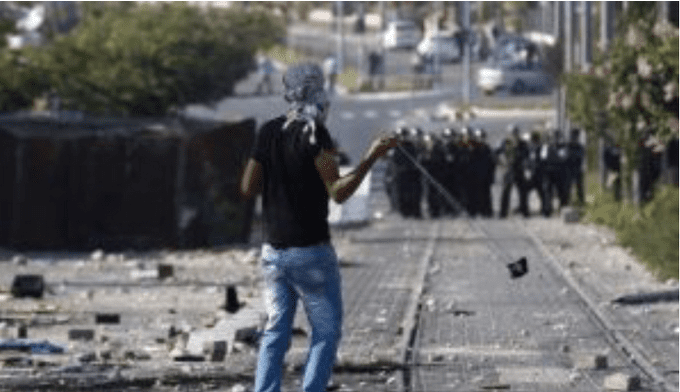 Tayyeb Saleh Shihada – Huwara – Nablus
On 25 July at approximately 1:30 P.M., clashes erupted between Palestinians, who threw stones, and Israeli forces at the Huwara checkpoint, near the Yitzhar settlement intersection. Tayyeb, 21, was wearing a mask to cover his face and was throwing stones at the Israeli soldiers. He was shot with a live bullet that penetrated the lower part of his eye and exited through the back of his head. The bullet shattered his brain and caused internal bleeding. He was transferred to Rafidia Governmental Hospital, where he was immediately announced dead. Four additional people were injured with live bullets.
BLOG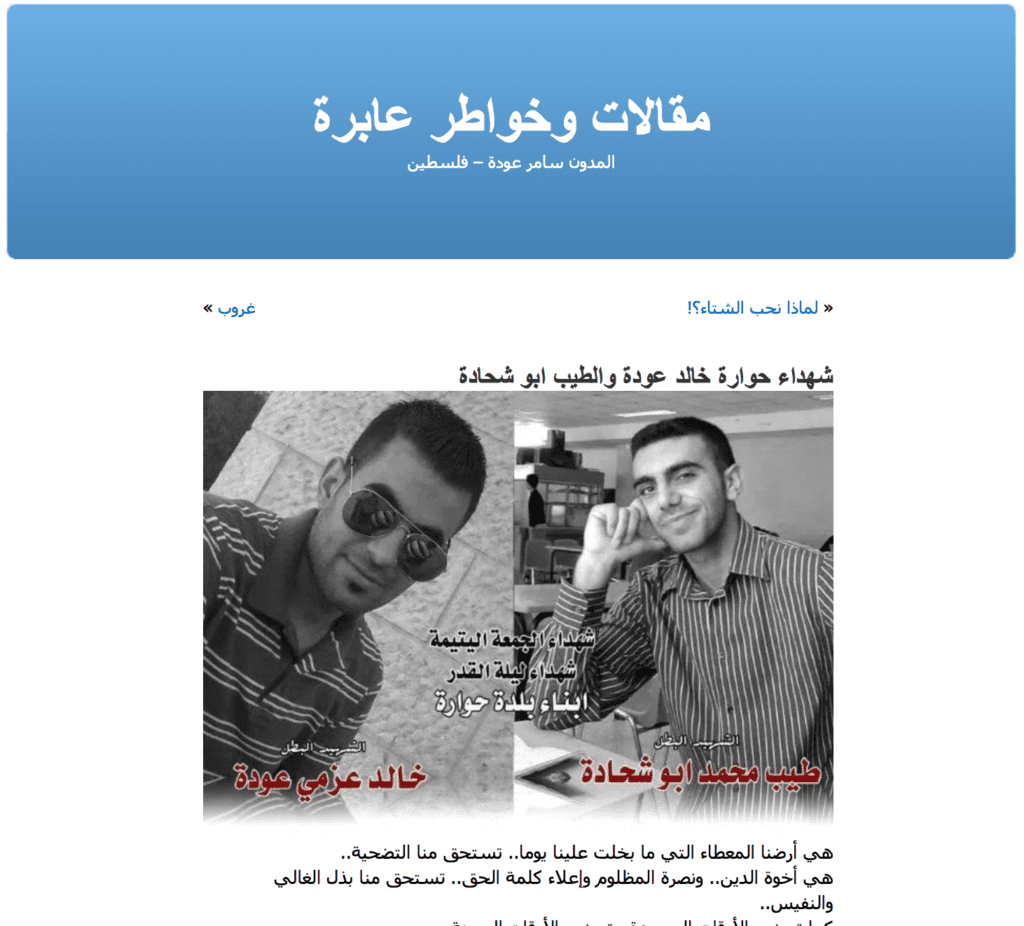 Click HERE to view website
Articles and passing thoughts
Blogger Samer Odeh – Palestine
إستشهاد الطيب أبو شحادة
كان مجموعة من الشباب مجتمعين في طرف الشارع وفي الطرف الآخر قوات كبيرة من جيش الإحتلال، لم تكن المسافة بين الطرفين اكثر من 100 متر.. كنت واقفا مع الشباب المجتمعين حين نزل شابين ملثمين أحدهما كان الطيب وألقيا زجاجات حارقة على الجنود انتقاما لخالد، فرد الجنود بإطلاق الرصاص الحي الذي كاد يصيب أحدنا، وأتبعو ذلك بزخة من قنابل الغاز المدمع.. ثم بعدها بوقت قصير قام مجموعة من الشباب بتوجيه علبة ألعاب نارية باتجاه الجنود وأطلقوها، فدب الرعب في قلوب الجنود الذي قاموا بإطلاق النار مباشرة على الشباب، جاء الطيب – رحمه الله – يجري من بعيد، مرتديا قناع " الأنونيموس " المشهور، وفي اللحظة التي كان الجندي يصوب سلاحه باتجاه السور الذي يختبئ خلفه الشباب وقف الطيب حاملا في يده الحجر ليلقيه، لكن قدر الله سبق! وكانت رصاصة الجندي الحاقد أسرع من الحجر.. فاخترقت رصاصة الغدر عين الطيب رحمه الله ليسقط والحجر في يده.. وفي نفس اللحظة انهمرت عشرات قنابل الغاز على المكان مما أدى لانعدام الرؤيا.. وبالكاد استطاع الشباب الموجودين سحبه..سحبه الشباب إلى جانب بيت قريب، ويا للقدر العجيب، ان ذلك البيت كان بيته، فكان آخر العهد ان ينزف دمه الطاهر على عتبات البيت الذي تربى وعاش فيه حتى يكسيه هيبة وعزة الشهداء.. قال الشخص الذي كان بجانبه " لم أعرف ماذا أفعل، فقد كان الغاز المدمع يحرق عيني، وعندما كشفت القناع عن وجهه كان ينزف بغزارة وقد فارق الحياة مباشرة، وما زاد هول الموقف أن ذلك حصل أمام عيني قريباته اللاتي كن يرقبن من سطح المنزل"..
The martyrdom of Tayeb Abu Shehada

There was a group of young people gathered at the side of the street and at the other side large forces from the occupation army, the distance between the two sides was not more than 100 meters .. I was standing with the young people gathered when two masked young men came down, one of whom was al-Tayyib and threw Molotov cocktails at the soldiers in retaliation for Khaled, the soldiers returned With live bullets that almost hit one of us, and they followed with a torrent of tear gas canisters .. Then shortly afterwards a group of youths directed a can of fireworks towards the soldiers and fired them, and the terror in the hearts of the soldiers who shot directly at the youth came, al-Tayyib – have mercy on him God – running from afar, wearing the Anon mask Moss "famous, at the moment that the soldier was pointing his gun toward the wall, hiding behind him to stop young people carrying a good stone in his hand to His, but God forbid already! The bullets of the hateful soldier were faster than the stone .. The treacherous bullet penetrated the eye of God, may God have mercy on him, to fall and the stone in his hand .. At the same moment, dozens of gas bombs poured into the place, which led to a lack of vision .. And the young men barely managed to withdraw it ..
The youth pulled him to the side of a nearby house, and it is strange that this house was his house, so it was the end of time for his pure blood to bleed on the doorsteps of the house in which he was raised and lived until he wore the prestige and honor of the martyrs .. The person who was next to him said, "I did not know what to do, for he The tear gas burned my eyes, and when the mask revealed his face he was bleeding profusely and he died directly, and the horror of the situation was that it happened before the eyes of his female relatives who were watching from the roof of the house.
DAILY DOT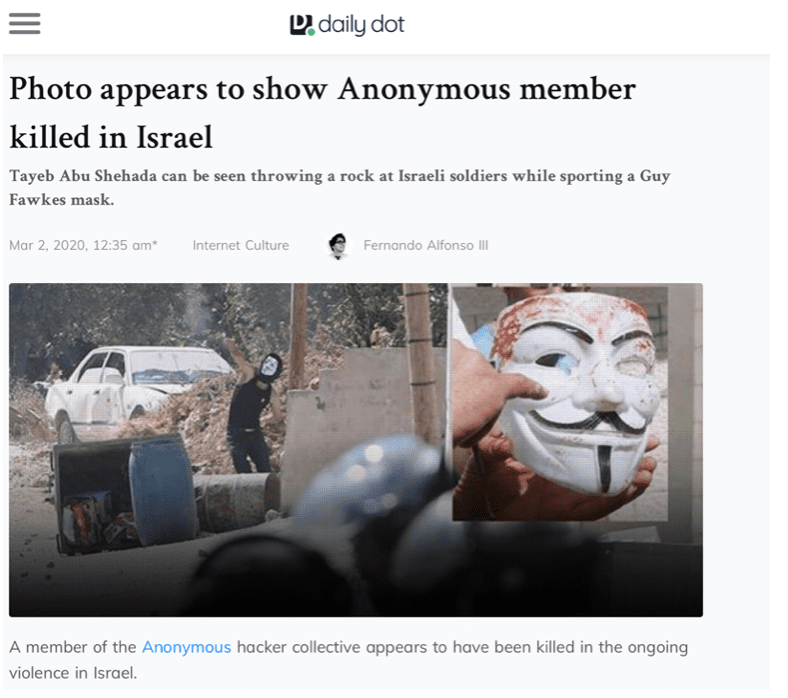 Click HERE to view website
Photo appears to show Anonymous member killed in Israel
Tayeb Abu Shehada can be seen throwing a rock at Israeli soldiers while sporting a Guy Fawkes mask.
Mar 2, 2020, 12:35 am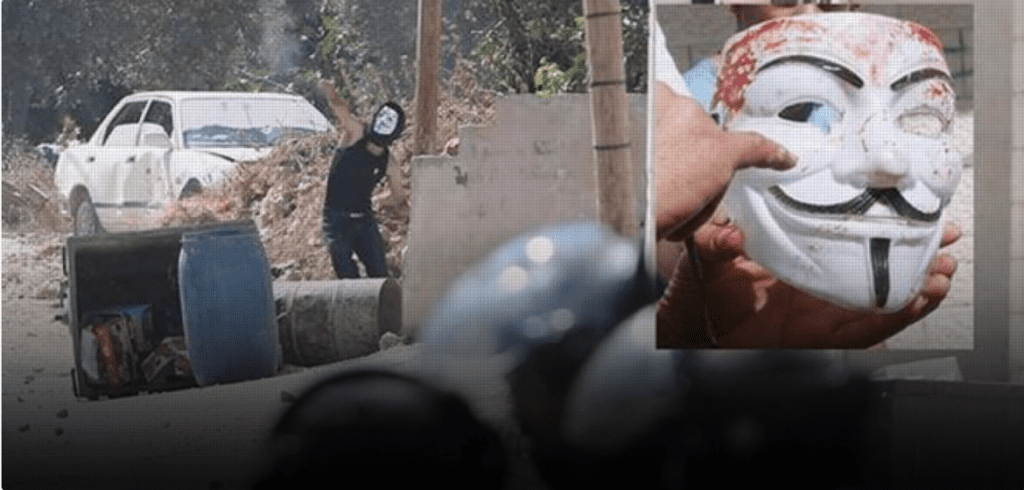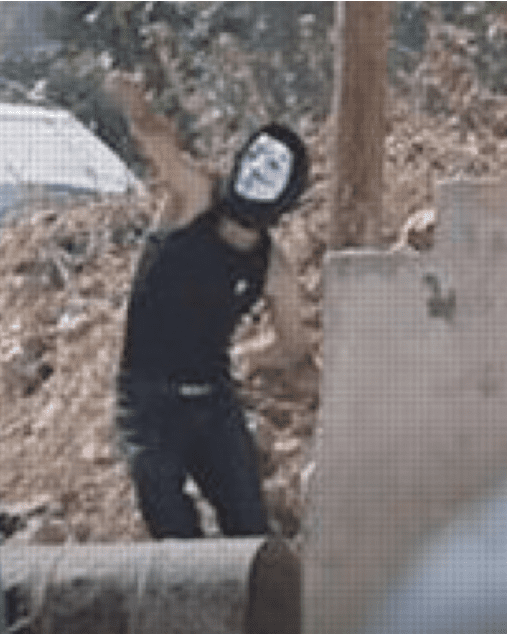 INCIDENT SUMMARY
Al-Haq, a human-rights organization with ties to the terror organization, Popular Front for the Liberation of Palestine, reported that Tayyib Shehada, wearing a facial mask, throwing stones at Israeli soldiers, was shot and killed. This is not the entire story.
Tayyib threw Molotov cocktails at Israeli soldiers. This was followed by the ignition of a box of fireworks that led the IDF soldiers to believe they were under fire. They responded with live ammunition. Tayyib, wearing an Anonymous mask, was about to throw a stone when he was hit by a bullet and killed.
TAYEB ABU SHEHADA'S HAMAS AFFILIATION
YOUTUBE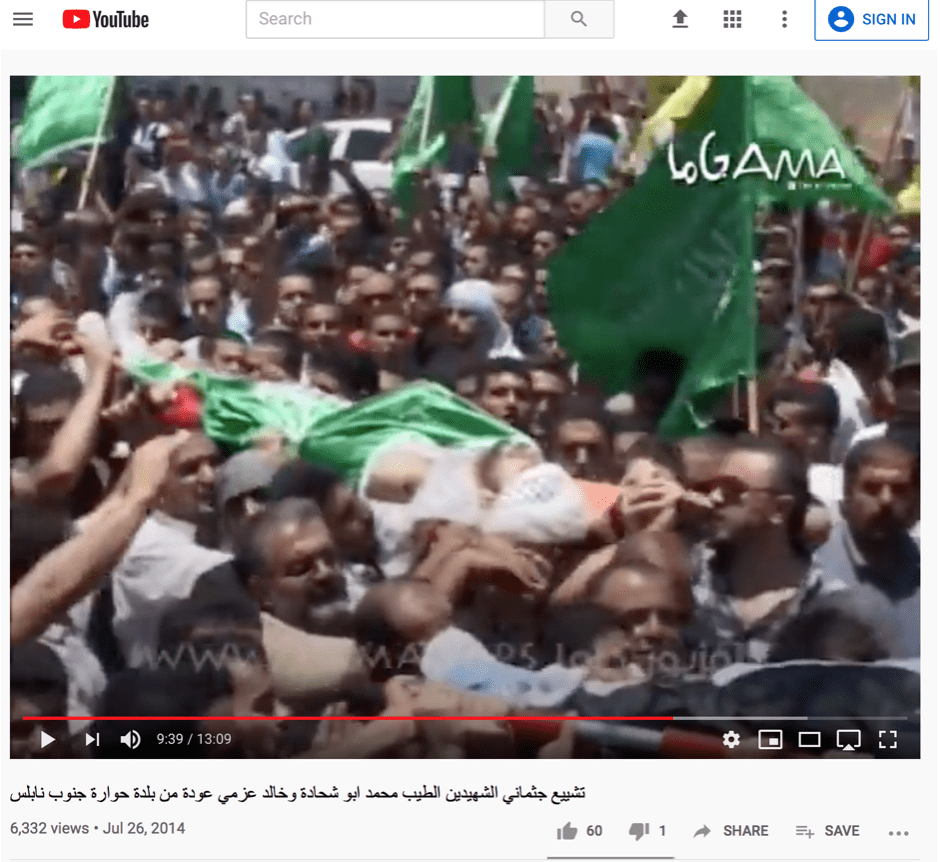 Click HERE to view YouTube video
تشييع جثماني الشهيدين الطيب محمد ابو شحادة وخالد عزمي عودة من بلدة حوارة جنوب نابلس
The funeral of Tayyib Mohammed Abu Shehadeh and Khaled Azmi Odeh from the town of Hawara south of Nablus
VIDEO SCREEN GRABS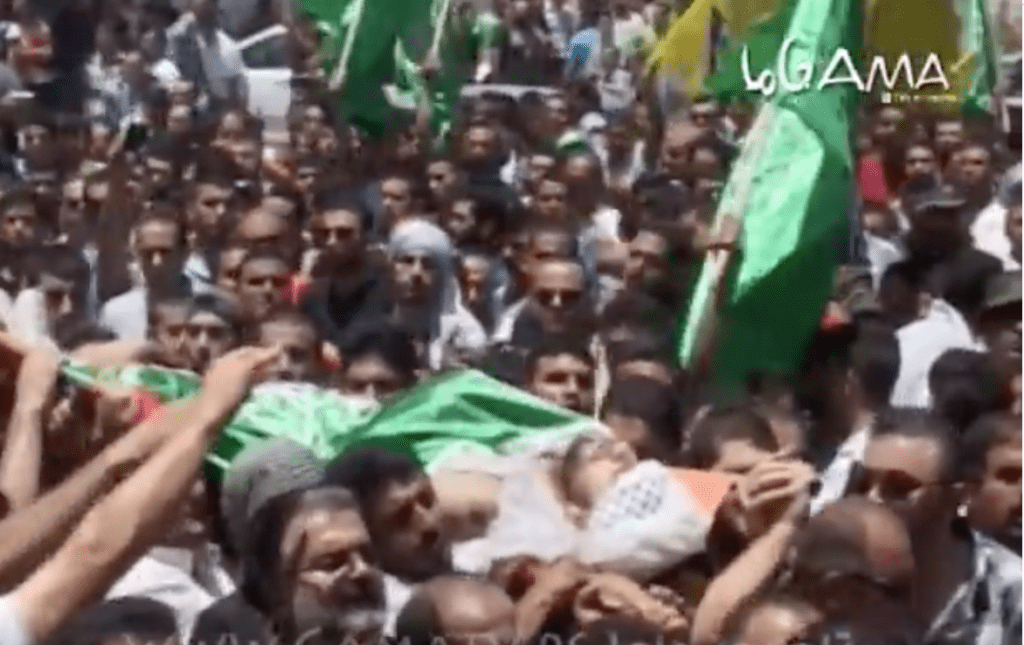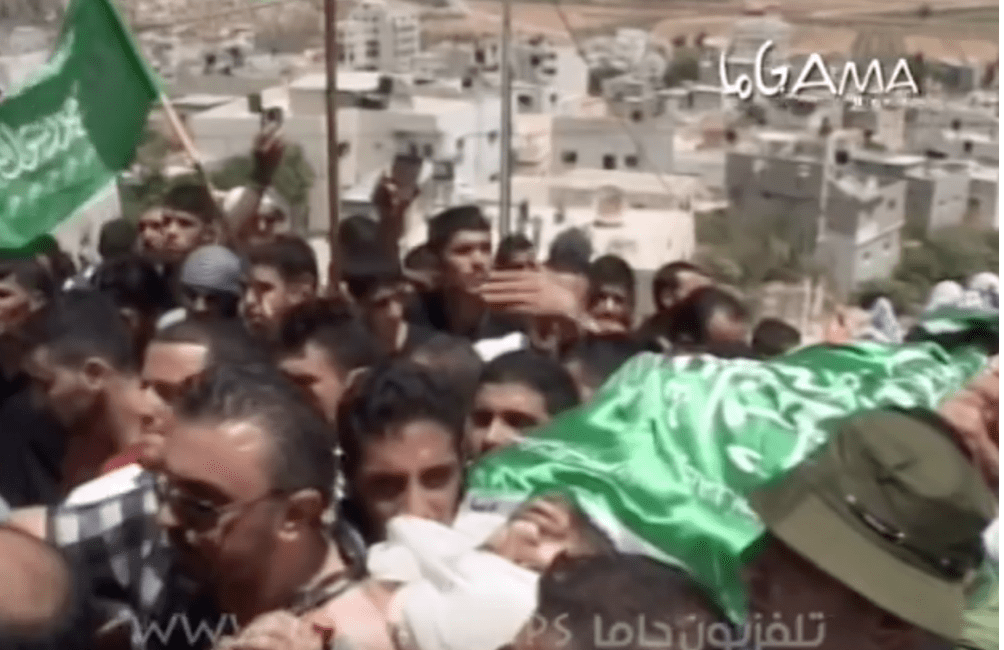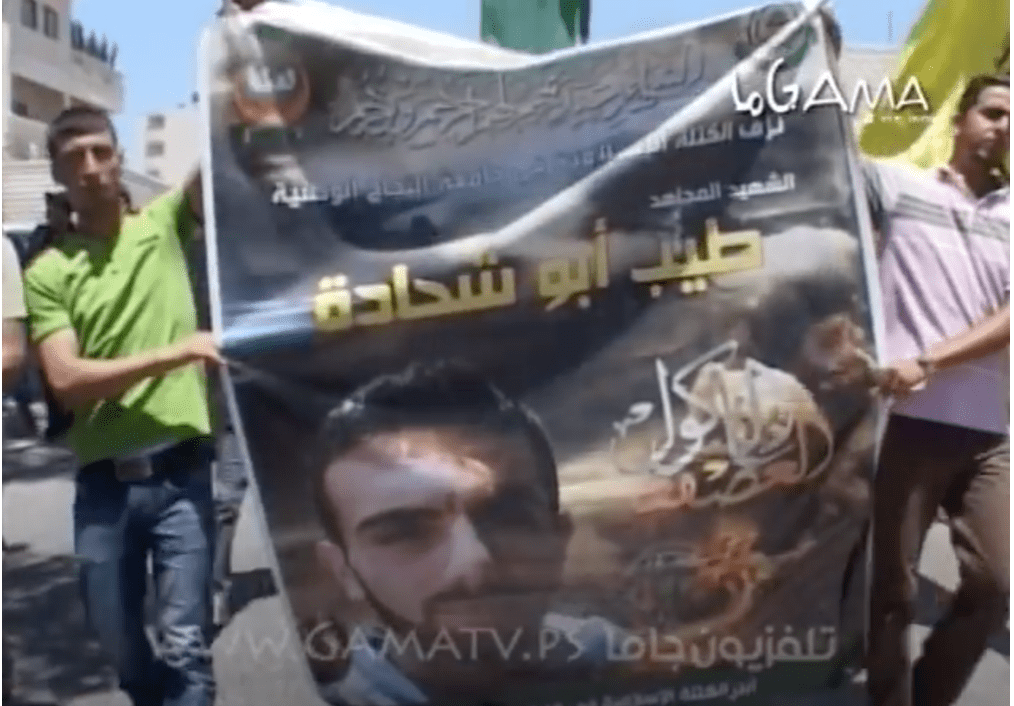 ANALYSIS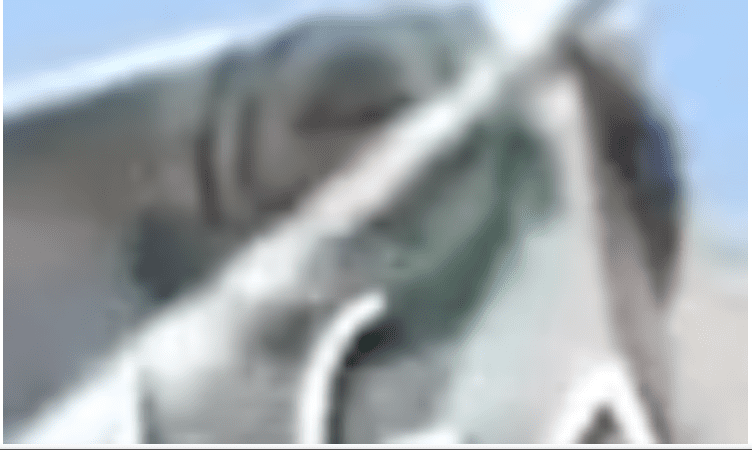 TWITTER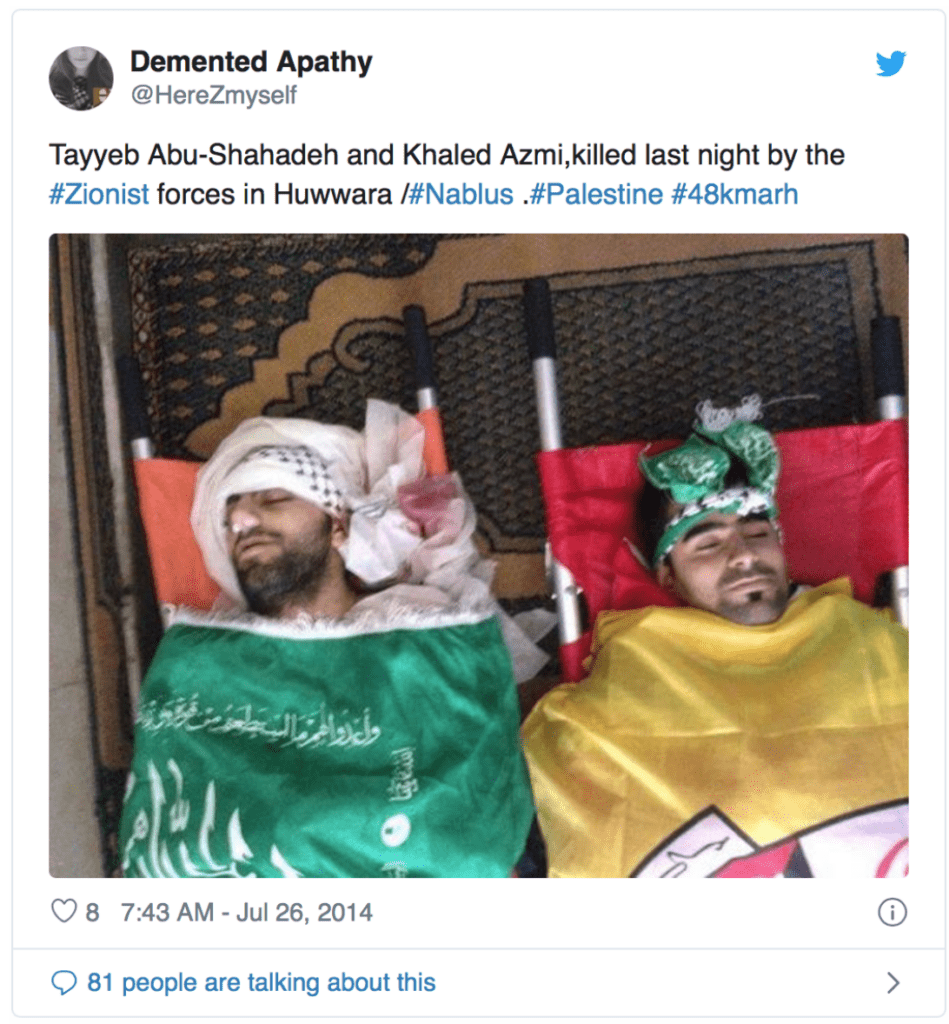 Click HERE to view Twitter page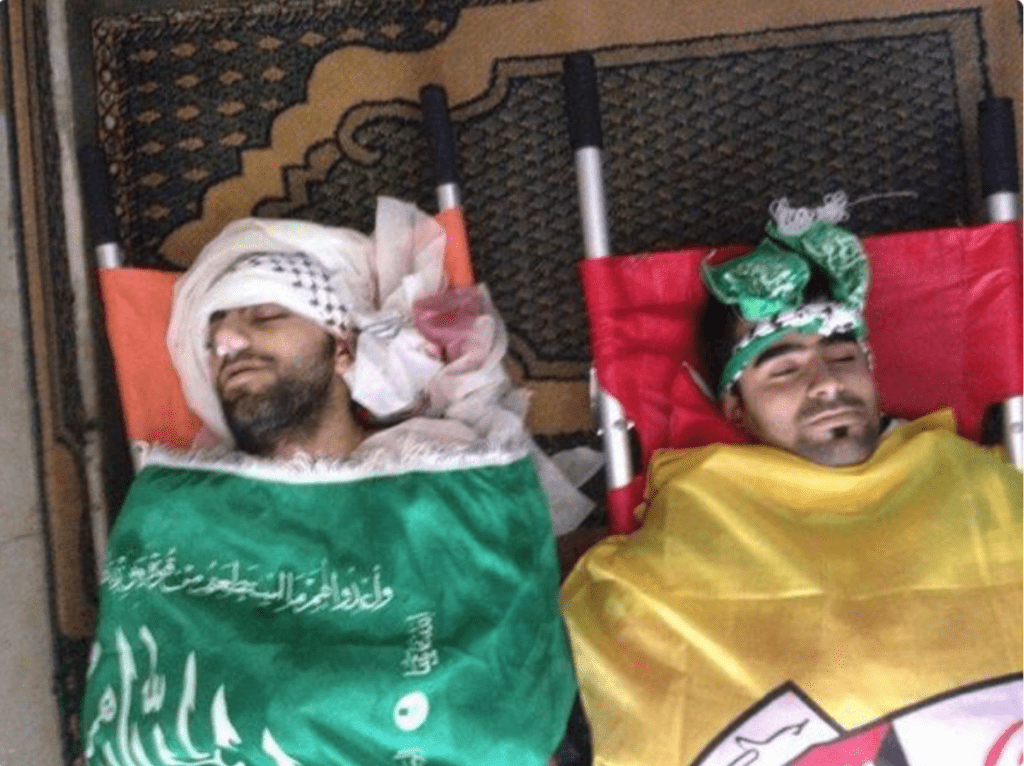 Shehada, left, draped with green Hamas shroud
PATENTLY FALSE NARRATIVE, ORIGINAL HUMANIZE PALESTINE WEBSITE
ORIGINAL HUMANIZE PALESTINE WEBSITE
He was part of the hacker group Anonymous and wore an Anonymous mask as he protested against the Israeli Occupation Forces.
THE FACTS
Tayeb Mohammed Abu Shehada was part of Hamas. At the funeral, Shehada's body DID NOT have an Anonymous mask, a Guy Fawkes mask covering his face. His body WAS draped, covered with a Hamas shroud.
HAMAS / IZZ AL-DIN AL-QASSAM BRIGADES FUNDRAISING SCHEME
Prior to August 2020, the Hamas and Izz al-Din al-Qassam Brigades websites had a green banner at the top of their home page. This is how the home page of Hamas' TV station, al-Aqsa TV, appeared on March 16, 2020:

Note the green banner at the top of the page:

The green banner contained an embedded URL that linked to the Izz al-Din al-Qassam Brigades website. Clicking on the green banner would open this webpage: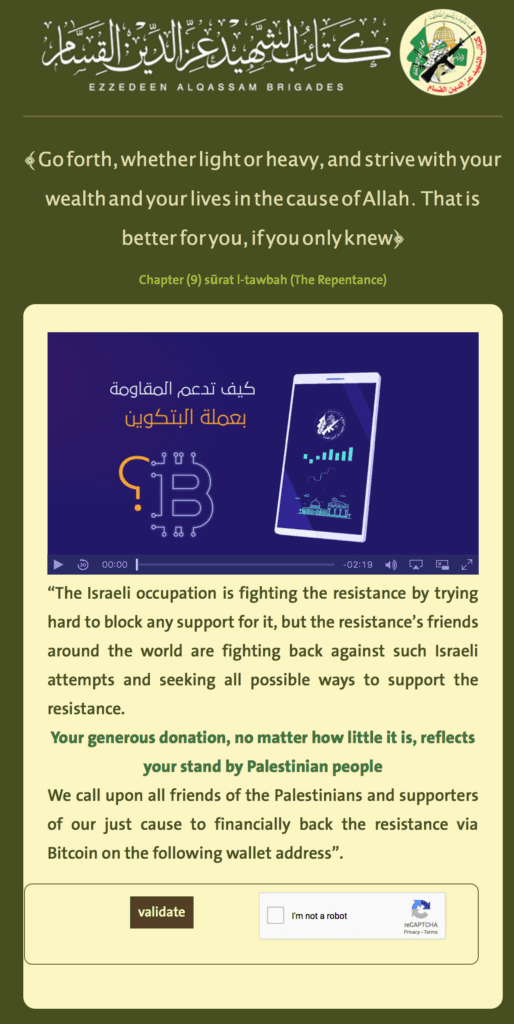 This was a fund raising scheme utilizing cryptocurrency, Bitcoin, to underwrite its terrorism ("resistance"). Note that the solicitation is in English. This would indicate that the fund raising scheme not only targeted Arabic speaking countries but English speaking western countries as well, such as the U.S.
In August 2020, the U.S. government seized the website, funds and assets:
U.S. DEPARTMENT OF JUSTICE SEIZURE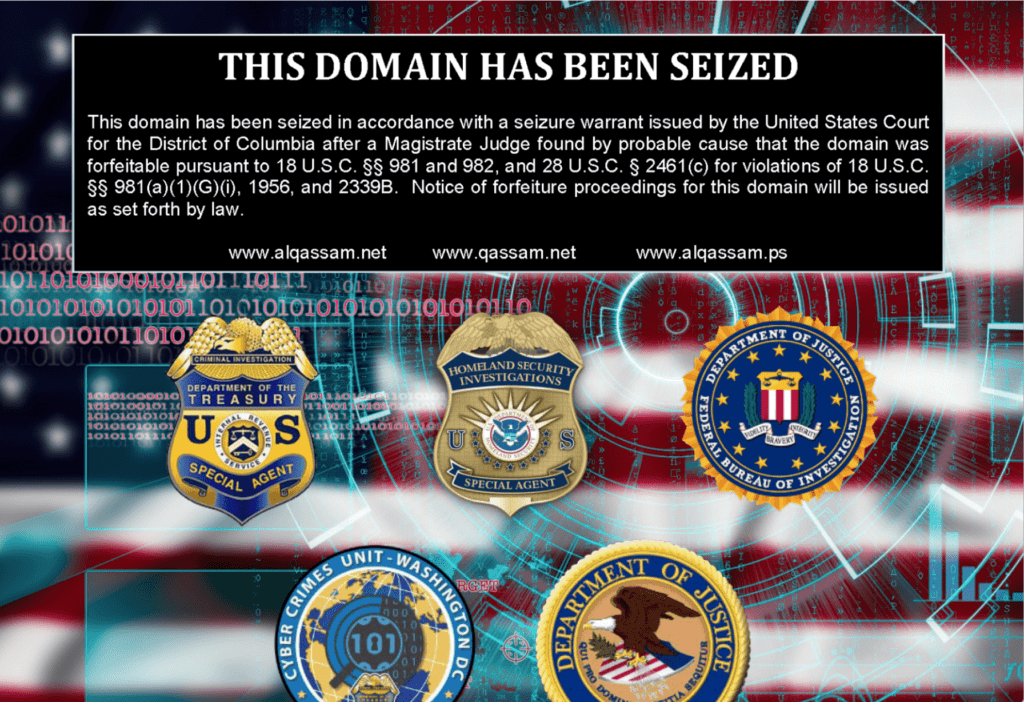 The original Humanize Palestine website memorialized Hamas and al-Qassam Brigades terror operatives, Tayeb Mohammed Abu Shehada was one example. In their own words, they honored the deceased terror operatives as martyrs by bringing them back to life through their pictures, stories, art, and poetry.
Now the victims of these terror operatives have been honored. The U.S. Department of Justice has seized al-Qassam Brigades assets, funds and websites, used to finance their terror campaigns. The monies will be directed to the United States Victims of State Sponsored Terrorism Fund.
To read about the United States' largest-ever seizure of cryptocurrency in the terrorism context, click HERE.
CLICK 'HOME' TO RETURN TO GALLERY